Erdogan Tightens Grip on Turkey as Loyalist Set to Be Premier
by and
Transport Minister Binali Yildirim to replace Ahmet Davutoglu

Yildirim seen working to extend Erdogan's powers as president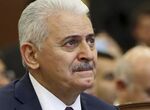 Binali Yildirim, a close ally of Turkish leader Recep Tayyip Erdogan, is set to become the country's new prime minister -- an appointment that will significantly strengthen the president's grip on power.
Yildirim, who is being elevated from transport minister, is the only candidate for the job and his nomination will be put to an extraordinary convention of the ruling Justice and Development Party, or AKP, on Sunday, party spokesman Omer Celik said at a press conference in Ankara. Current Premier Ahmet Davutoglu will formally resign once results of the party vote are official.

Davutoglu's abrupt decision this month to step down came after he lost a struggle over preeminence and policy with Erdogan, who has sought to transform his traditionally ceremonial office into the nation's power center since taking the job in 2014. Yildirim, 61, is expected to lobby for a transition to a presidential system, undermining his own authority as prime minister and reducing the powers of parliament.
"This is really a significant step towards the personalization of power in the hands of Turkey's most powerful president," Soner Cagaptay, director of the Turkish Research Program at the Washington Institute for Near East Policy, said in an interview with Voice of America on May 13. Erdogan is on course to be the "most powerful person ever since Turkey became a multi-party democracy in 1950. He would be head of government, head of state, head of ruling party, pretty much head of everything in Turkey," he said.
Yildirim's rise would remove one of the biggest obstacles to Erdogan's plan to shift Turkey away from the parliamentary system of government. The president publicly criticized Davutoglu for not making that change a bigger priority, and tensions between the two simmered over Davutoglu's 20 months in office.
Quashing Rumors
In a speech announcing Yildirim's candidacy, Celik called for an end to speculation about a split between Erdogan and the ruling party, which Erdogan co-founded and led until his election as president. Under Turkish law, the president must sever links with any political party to serve as an impartial head of state, a rule that Erdogan has ignored and is seeking to change.
The AK party will seek to hold a referendum this on year on allowing Erdogan to have party ties, a presidential adviser said, asking not to be named because the matter isn't public. That suggests Yildirim's time in the role may be brief.
Yildirim is one of 60 founding members of the AK party along with Erdogan, according to the AKP website. He has served as transportation minister for most of the time since the party came to power in 2002, backing ambitious and controversial infrastructure projects praised by Erdogan including a new airport, high-speed rail and highway networks.
Yildirim was replaced as transport minister in December 2013 amid a corruption scandal, and made an unsuccessful run to be mayor of Izmir, Turkey's third-biggest city and a traditional opposition stronghold.
He was alleged to have collected money from construction magnates to fund the purchase of a major media group in exchange for infrastructure projects. Recorded conversations among the businessmen implicated show a frantic search to raise money to buy the group, which was owned by the conglomerate run by Erdogan's son-in-law, Berat Albayrak, who is now Turkey's energy minister.
Ultimately, no one was charged with any criminal activity following a probe, which Erdogan and the ruling party have characterized as a politically motivated attempted coup.
Lira's Plunge
The change in political leadership has roiled markets since it became clear that Davutoglu was on his way out. Market uncertainty was compounded by concerns that Deputy Prime Minister Mehmet Simsek, feted by investors as the last man standing from a team of policy makers who drove Turkey's rapid growth years, may also lose his job.
The lira weakened 0.4 percent to the lowest on a closing basis since January after the announcement on Thursday, trading at 2.9982 per dollar as of 1:58 p.m. in Istanbul. Other markets in Turkey were closed for a national holiday. UniCredit SpA said it expects the currency to weaken further and trade in a range of 3.00 to 3.05 per dollar, near the record low of 3.0752 it hit in January.
"The immediate concerns are political" analysts Kiran Kowshik and Vasileios Gkionaki said in a report published on Thursday. "Were President Recep Tayyip Erdogan to make stronger moves towards establishing an executive presidency –- a referendum on amending the constitution to allow the president to keep party ties represents a step in this direction -- the fall in the lira could accelerate."
Before it's here, it's on the Bloomberg Terminal.
LEARN MORE