Egyptian Minister Says Terrorism Possible in EgyptAir Crash
by , , and
Russian security official also says attack likely cause

Plane had traveled to numerous countries in recent days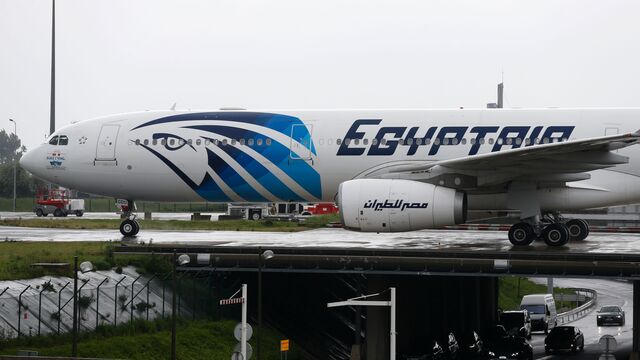 When a Russian Metrojet passenger plane went down last October in the Sinai, Egyptian officials took months before finally accepting it was the result of a bomb smuggled aboard.
Thursday, only hours after an EgyptAir Airbus A320 jet en route from Paris to Cairo disappeared over the Eastern Mediterranean Sea with 66 people on board, a senior Egyptian official said terrorism was a likely cause.

"The possibility of terrorist attack is higher than technical failure, but it is still speculations and assumptions," Civil Aviation Minister Sherif Fathy said in a televised news conference in Cairo.
A terror attack would raise difficult questions about security in Europe in general and Paris specifically following a year that saw deadly attacks carried out by supporters of Islamic State in Brussels and the French capital.
"If terrorism was indeed the cause, it would reveal a whole new level of vulnerability to aircraft -- not only from those flights originating in the Middle East, but to those departing from the heart of Europe and with, at least in theory, far better airport defenses," Representative Adam Schiff of California, the top Democrat on the House intelligence committee, said after being briefed on the incident.
Signs of Debris
French President Francois Hollande said no hypotheses were being ruled out, and French prosecutors opened a probe. Greek officials said debris had been found near where the plane was last localized, though they couldn't confirm if it was from flight MS804. The U.S. Navy sent a P-3 Orion surveillance aircraft to support search operations, with the Pentagon saying it had no ships in the area when the plane went down.
France has been on its highest level of alert since the terrorist attacks last year. The EgyptAir jet had traveled around North Africa and back and forth to Europe in the days before the crash, according to jet tracker Flightradar24. After returning to Cairo from Paris on May 16, the A320 flew back and forth to Brussels and then made trips to Asmara in Eritrea and Tunis before heading to Paris on Wednesday.
"We have seen a desire on the part of extremists around the world, including some extremists in the Middle East, to carry out attacks targeting the international aviation" system, White House spokesman Josh Earnest told reporters Thursday, adding that it was too early to rule any cause in or out.
Russia said an attack was the likely cause of Thursday's crash, RIA Novosti reported. It cited Russian Federal Security Service head Alexander Bortnikov as saying all interested parties should take action to find the perpetrators. He didn't offer evidence to back up his claim.
Before it's here, it's on the Bloomberg Terminal.
LEARN MORE