China Leader Offers Economic Fix to Hong Kong's Political Ills
by
No. 3 Communist calls demands for more autonomy 'distraction'

Zhang's message highlights gap between Beijing and protesters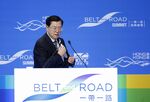 The most senior Chinese official to visit Hong Kong in four years had a clear message to the protesters who tried to disrupt the event: The future of Hong Kong hinges on its economic success.
Over the course of his three-day visit, Zhang Dejiang, the No. 3 ranking figure in the Communist Party leadership, repeatedly stressed that Hong Kong's economy was the thing that set it apart. Politics or demands for greater autonomy were a "distraction," he said.
Zhang's remarks highlighted the gap between the Chinese government's priorities for the one-time British colony and the growing sense of unease about income inequality and limits on political freedom among the city's more than 7 million residents. Those concerns were exacerbated after detentions late last year of five Hong Kong booksellers who sold works critical of the Communist Party.
"Zhang and the rest of the Chinese leadership do not get what is the crux of the matter in Hong Kong," said Steve Tsang, senior fellow at the China Policy Institute at the University of Nottingham. "It is a visit during which the two sides talked past each other. The real question is what recommendations Zhang will make upon his return to Beijing."

The purpose of Zhang's trip was to highlight Hong Kong's role in President Xi Jinping's "One Belt, One Road" trade and infrastructure initiative. He urged the city to waste no time seizing "heaps of opportunities" arising from the strategy. Hong Kong's economy unexpectedly contracted 0.4 percent in the first three months of the year compared to the prior quarter -- the steepest drop since 2011 -- as exports fell and mainland visitor arrivals and tourism spending slumped.
Throughout his trip, Zhang, the chairman of the National People's Congress, reiterated the government's commitment to the "one country, two systems" framework that guarantees Hong Kong's a "high degree of autonomy." He rejected efforts to seek greater political freedom, or even independence from the mainland.
"The fundamental principle by which Hong Kong establishes itself and earns its spot in the world is its economy," Zhang said before leaving Thursday. "It won't work if it's being distracted from the economy and focusing on street politics."
'Real Issue'
NPC Standing Committee guidelines calling for a nomination committee to screen candidates for Hong Kong's top office set off pro-democracy protests in late 2014 that paralyzed key business sections of the city for more than 10 weeks. The Occupy protests ended without securing concessions from Beijing and legislation intended to enact the election overhaul later failed in Hong Kong's Legislative Council.
A December poll from Hong Kong University's Public Opinion Program suggests its residents' priorities are mixed. While 20 percent said they're concerned about economic problems, almost 60 percent of those surveyed said they're most concerned about social issues including their livelihoods, injustice and inequity. Eighteen percent said they're concerned about politics.
"What he said was meaningless because it failed to address the real issue -- political reforms," said Nathan Law, chairman of Demosisto, a political party founded by student leaders of the Occupy protests. Five members of the group tried to rush Zhang's car on Thursday morning, saying he ignored demands for self-determination.
Hong Kong was on high alert for Zhang's visit, after the Occupy protests and a February riot involving a group seeking self-determination that injured more than 90 police officers. The city deployed as many as 6,000 police officers for each day of the trip and established a broad security cordon to keep protesters at bay.
Happy Life
Zhang met a group of moderate democratic lawmakers before a banquet held at the Hong Kong Convention and Exhibition Center on Wednesday. Democratic Party Chairwoman Emily Lau said she used the meeting to criticize Hong Kong Chief Executive Leung Chun-ying and urge Beijing to revisit its stance on requiring a nomination panel to screen candidates for the city's top office.
"The economy of course is a problem, but we also told him there are social problems, and political problems," Lau said. "I told him that Hong Kong people are very unhappy because of the poor governance and because Beijing refused to allow us to have democratic elections. I wanted to impress upon him the urgency of the matter, and for the reaction he gave some standard replies."
At the banquet, Zhang said Hong Kong's international profile was "decided by its economic status." He added that a happy life depended on development.
"Rocking the boat won't do any good for Hong Kong," Zhang said. "It will only let years and months slip by and harm the economy and people's livelihoods."
Before it's here, it's on the Bloomberg Terminal.
LEARN MORE