Cameron Seeks to Avoid Tory 'Psychodrama' Over Brexit Debate
by
'I don't want too many blue-on-blue conflicts,' Cameron says

Boris Johnson 'wrong' to compare EU aims to those of Hitler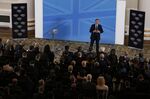 U.K. Prime Minister David Cameron says he wants to avoid a "psychodrama" within his party over the referendum on European Union membership next month, batting away the suggestion he might hold a televised debate with fellow Conservatives Boris Johnson, the former mayor of London, or Justice Secretary Michael Gove.
"I don't want too many blue-on-blue conflicts, partly because I want to demonstrate that those arguing to stay in the reformed European Union include the Labour Party, the Green Party, the Liberal Democrat Party, the trade-union movement, most of British industry, the majority of small businesses," Cameron said Thursday in an interview with LBC radio. "I want to prove the breadth of the campaign and I don't want this to become a sort of Tory psychodrama between me and Boris or me and Michael Gove."
The June 23 referendum has split the Conservatives down the middle, with members of the party taking to the airwaves to insult one another and trading accusations of scaremongering. Johnson was criticized this week for suggesting the EU shares Adolf Hitler's goal of uniting the continent, and Cameron used Thursday's interview to add his voice to the condemnation.
"I think he's wrong," Cameron said. "Hitler wanted to snuff out democracy across the continent, and the European Union is basically an alliance of countries that share a view about democracy and liberal values."
'No Other Agenda'
Johnson hit back, saying that Cameron hadn't achieved the reforms of the EU he had sought before calling the referendum and that government efforts to draft a so-called sovereignty law to protect the U.K. from EU overreach are a "farce."
"The government has totally failed to protect the U.K. from EU plans for more centralization," Johnson said in a statement e-mailed by the Vote Leave campaign. "We were told to expect reform of the European Court of Justice and of border controls and agriculture and social and employment law and many other things. Alas we achieved none of that."
Cameron himself was criticized this week after he said that Russian President Vladimir Putin and Islamic State leader Abu Bakr al-Baghdadi might be happy if Britain voted for a so-called Brexit. The prime minister and Chancellor of the Exchequer George Osborne have both been accused of scaremongering for saying a vote to leave would damage the economy and harm national security.
Cameron has said he won't run as prime minister again at the next general election in 2020. That means "I've got no other agenda than saying what I think is right for our country," he said Thursday.
Johnson, Gove, anti-Brexit Home Secretary Theresa May and Osborne are the favorites to succeed Cameron.
"It would be inhuman not to be sad and disappointed that Boris and Michael have taken a different view, but that's for them to say," Cameron said. "I'm disappointed that I haven't convinced more Conservative members of Parliament."
Asked whether he thought the decision to support a Brexit was "a question of conscience" for Johnson, Cameron told LBC: "Well, he says he was torn. He's told a lot of people that he'd never been a leaver."
"I have been a euroskeptic for decades," Johnson said in his statement, "and was hoping that the PM would achieve what he set out. The fact is that in a globalized economy the EU is an obsolete political construct whose main policy -- the euro -- continues to cause unacceptable misery."
Before it's here, it's on the Bloomberg Terminal.
LEARN MORE