Blockchain Goes Beyond Crypto-Currency
Businesses are exploiting a technology created for bitcoin.
By
Starting next September, some logistics companies in Finland, Sweden, Estonia, and Latvia will begin outfitting shipping containers with a soda-can-size device that will beam out the cargo's location, how much it's vibrating as it travels, and its ambient temperature. The data will flow into a repository in the cloud so the entire supply chain can be informed if a shipment's been delayed. That will prevent redundant e-mails and phone calls. "There are massive problems communicating between companies," says Mika Lammi, who's overseeing the project from his perch at Kouvola Innovation, a business development agency in southern Finland. "Instead of having separate databases, why not have a single blockchain where everyone can pool information?"
Blockchain is the technology created to support bitcoin, but it may soon surpass the crypto-currency in importance. In the first quarter of 2016, venture capital investment in startups commercializing blockchain eclipsed that in pure-play bitcoin companies for the first time, according to industry researcher CoinDesk, which has tallied $1.1 billion in deals to date.
The simplest way to understand blockchain is to see it as the evolution of the ledger, a record-keeping tool that's been central to commerce since ancient times. Ledgers track the movement of assets, whether they're parcels of land or shares in a company, but they have a big limitation: Access to the trove of data is restricted, ostensibly for security reasons, but often because that's how its custodians make money.
In the age of the cloud, it's possible for a network of banks or companies in a supply chain to maintain what's called a distributed ledger that all authorized participants can tap into without needing to go through an intermediary. Another benefit of a blockchain-based system is that it's more secure. Criminals cannot commandeer individual machines to gain access to a network, as they did with recent attacks on Asian banks, by way of fake messages on Swift, a platform banks use to communicate with one another. In February, that method was used to siphon about $80 million out of an account of the central bank of Bangladesh. "Hacking a blockchain is generally considered a low risk," says Richard Johnson, a market structure analyst at Greenwich Associates. "Bitcoin has never been hacked."
The technology is drawing interest from finance, shipping, manufacturing, and entertainment. Gilles Gravier, an adviser at Wipro, the Indian outsourcing giant, says blockchain today is where the Internet was in 1995. Companies will need "courage," he says, to use the technology to "allow them to do what they haven't done before."
Blockchain's boosters say it will drive big improvements in efficiency by streamlining logistics and cutting out intermediaries. Gil Luria, an analyst at Wedbush Securities, a Los Angeles-based investment bank, estimates that savings in trading securities and other assets could reach tens of billions a year.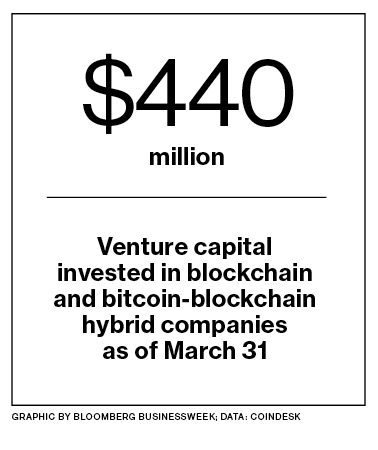 R3, a private consortium of more than 45 institutions, including JPMorgan Chase, Barclays, and Wells Fargo, is working to develop and commercialize blockchain applications. In February the New York-based group revealed it had successfully simulated trades of digital assets on a private network spanning four continents. Tim Grant, managing director of R3, says blockchain could speed the often lengthy process of shifting assets from one party to another. That includes overseas wire transfer, which he says can take days to complete because of antiquated systems and procedures. "It's manual processes that can be automated in a very secure and transparent way via distributed ledger," he says. "We're just trying to collapse these inefficiencies."
John Hancock Financial, a Boston company that sells life insurance and mutual funds, is also experimenting with blockchain. Four staffers in its innovation lab have created a virtual currency for the purpose of rewarding employees, who could use it to buy gift cards, for example, says Ace Moghimi, John Hancock's head of innovation in North America. "The whole point here is, let's build the capability and figure out where you can apply it," he says. "It could potentially have really big implications for the business."
At Deloitte, the technology underpins an experimental airline loyalty program in which terms and discounts can be adjusted at will so that, for example, a customer whose flight was grounded would be able to use airline points to pay for a meal at a restaurant during a layover. "Suddenly what you enable is a very different customer experience and behavior, and you can increase your revenue," says Eric Piscini, a principal at Deloitte.
If they pan out, these applications may boost the market for cloud services, already a $175 billion-a-year business globally. Microsoft, which last fall began offering tools for developers to build such systems quickly, has 5,000 blockchains on its servers, up from 50 in December, according to Marley Gray, director for business development for blockchain at the company. "It's insane. The demand is off the charts," says Jerry Cuomo, vice president for blockchain technologies at IBM, which has developed open source blockchain code that has about 1,000 active users.
Despite the excitement, blockchain faces obstacles. Speed is one—the technology may be too slow to accommodate a large volume of transactions. Integrating new technology into existing systems may also be a challenge. And regulatory hurdles could deter or slow the adoption of blockchain.
Deloitte's Piscini says the hype is causing some confusion about what the technology is good for—and what it isn't. "Everybody comes to us saying, 'We have a problem, and we need the blockchain to fix it,' " he says. "Half the time, they need something else to fix it."
 
—With Matthew Leising
The bottom line: Investment in startups commercializing blockchain technology has eclipsed that in bitcoin-only companies.