Austria Populists Aim for Breakthrough in Presidency Runoff
by
Freedom Party's Hofer pitted against Greens' Van der Bellen

Immigration, jobs, inequality shape voters' disaffection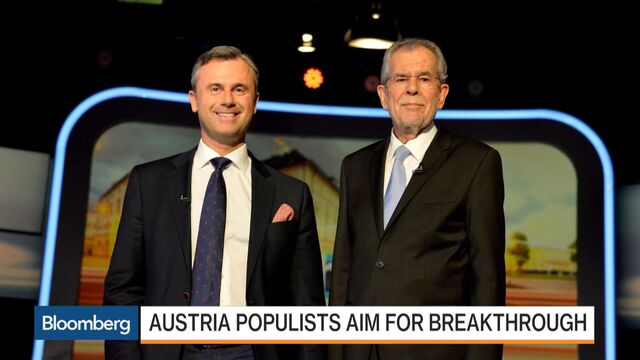 Austria's right-wing populist Freedom Party is aiming to leverage discontent over immigration and unemployment into a breakthrough victory at the ballot box this weekend, as it vies to win its first presidential election.
Freedom Party candidate Norbert Hofer, 45, aims to beat Green Party-backed Alexander Van der Bellen, 72, when 6.4 million Austrians are called to vote on Sunday. He has pledged to weigh into the Alpine nation's politics with the authority of his popular mandate, breaking with decades of Austrian presidents who agreed to play a largely ceremonial role.
"The populists are able to tap into a sense of frustration in many voters that the kind of middle-class lives and middle-class jobs people used to have aren't there anymore," said Ian Bond, a London-based director at the Centre for European Reform. "It's the sense that inequality is growing and that while the rich recovered, everybody else was left behind."
The Freedom Party has skyrocketed in popularity in recent years. Hofer won 35 percent of the presidential vote in the first round, more than double the support Freedom's candidate received five years ago. The ruling government coalition's candidates were humiliated, and Social Democrat Werner Faymann stepped down as chancellor last week.
Hofer's group has stoked Austrian concerns that a new flood of immigrants could overtax already-faltering educational and medical systems while exacerbating higher unemployment rates and affordable housing that's become more scarce.

Hofer holds a 6 percentage point lead over Van der Bellen according to the latest Gallup opinion poll published May 12, which interviewed 600 people and has a 4 percent margin of error. Even as Van der Bellen, a chain-smoking former Green Party leader and economics professor, has garnered endorsements from across the political spectrum, he's struggled to tap the pool of disenchanted voters -- mostly male, young, white and working-class -- that are driving Hofer's populist campaign.
Austria's Freedom Party, formed by a former Nazi SS officer in 1956, has capitalized on popular dissatisfaction by promising to make a more assertive use of the presidential powers assigned by the constitution. Hofer says he may dismiss governments that don't heed his advice on immigration or taxes and call fresh elections.
He's promised to reject laws like that for a planned free-trade agreement between the European Union and the U.S. And he said he would join government representatives at EU meetings in Brussels. While he wouldn't push for Austria to leave the EU, he'd vote against joining it if that decision was due now, Hofer has said.
"The president as the only politician who Austrians directly vote for and he has to work closely with the government and parliament," Hofer said late Thursday in a broadcast debate with Van der Bellen. "They have to be in closer contact."
The Freedom Party's success with working-class and low-income voters has been a particular headache for Austria's Social Democrats, whose new Chancellor Christian Kern criticized Faymann's government in his first speech this week for overseeing six consecutive years of declining wages.

"The European Left is bereft of workable ideas on how to address these concerns, especially in their economic dimensions," said Ian Kearns, the director of the European Leadership Network. "Too many center-left parties have implied they have solutions to problems but have been scared to attack vested interests and embedded inequality to a sufficient degree to persuade voters."
If Hofer wins on Sunday, he could be the opening shot in a series of elections propelling right-wing populists across Europe. The Freedom Party is allied with France's National Front, whose Marine Le Pen has a fighting chance to win presidential elections less than a year from now. The Alternative for Germany, which could enter the parliament in Berlin in the next election, is another ally, as are the Dutch Freedom Party and Italy's Lega Nord.
It's unlikely, however, that Austria will be subject to the same approbation it received after its late party leader Joerg Haider won parliamentary elections in 1999, prompting an EU diplomatic boycott that lasted months. Franz Schellhorn, who leads the Agenda Austria economic think tank in Vienna, said he "doubts business volumes would be effected" if the Freedom Party takes the presidency.
"Austrian businessmen will probably find themselves having to answer a lot of political questions to defend themselves," Schellhorn said.
Before it's here, it's on the Bloomberg Terminal.
LEARN MORE