Australia Adds Jobs as Unemployment Rate Holds at 5.7%
by
Employment data comes in slightly under economist forecasts

Gains driven by surge in part-time roles as full-timers fall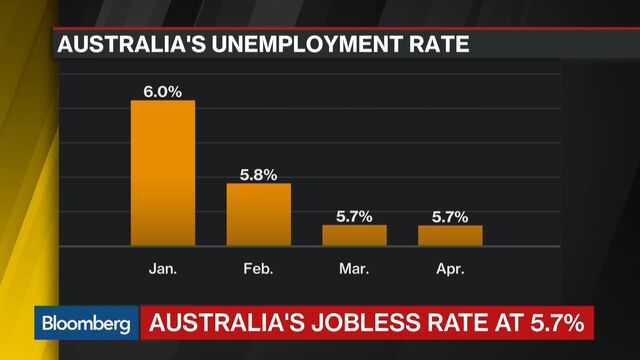 Australia's economy added jobs in April and the unemployment rate held at a 2 1/2 year low as the number of people in part-time roles increased.
Unemployment was unchanged at 5.7%; economists predicted 5.8%
Employment rose 10,800 from March; economists forecast 12,000 gain
Full-time jobs fell by 9,300; part-time employment rose by 20,200
Participation rate, a measure of labor force as a share of the population, dropped to 64.8%; economists predicted 64.9%

The report signals that record-low interest rates are aiding a revival in industries like construction, tourism and education that's helping soak up unemployed workers as a resource boom winds down. The second straight month of jobs growth also provides a boon for a government seeking to push its economic credentials ahead of a July 2 election. Still, wage growth is stagnant and the investment outlook remains weak.
Thursday's data "are unlikely to prompt the Reserve Bank of Australia to follow May's rate cut with another reduction at the next meeting in June," said Paul Dales, an economist at Capital Economics in Sydney.

The Australian dollar fell slightly after the report, buying 72.19 U.S. cents at 12.04 p.m. in Sydney compared with 72.30 cents before the data.
Full-time positions fell for the second consecutive month, while part-time roles have increased over the same period. While job creation is steady, the year has started slowly compared to the last quarter of 2015, when the nation added the most jobs on record.
The RBA this week said that data suggested employment would continue to grow, albeit at a somewhat slower pace than over the previous year, in minutes of its May board meeting. For now, stubbornly low inflation is the central bank's bigger concern.
"The RBA's near-term outlook for rates is now tied to the inflation outlook which has been lowered based on the weak first-quarter CPI read and subdued inflationary pressures," Tapas Strickland, economist at National Australia Bank Ltd. in Sydney, said before Thursday's report. "This will likely lower the emphasis the RBA places on near- term activity indicators, unless such indicators were to print markedly weaker than expected."
Before it's here, it's on the Bloomberg Terminal.
LEARN MORE