Arnault Waits for Berluti Payoff as Zidane Shoemaker Misses Goal
by and
Poker-playing son of LVMH CEO has expanded the menswear brand

Berluti looks to hire new creative director by start of summer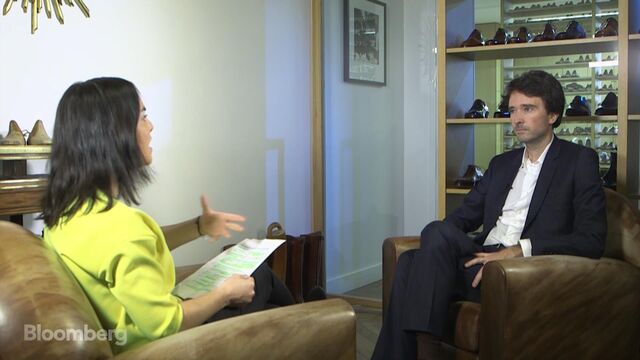 Antoine Arnault has had more success playing poker than he has getting his Berluti boot-making business to turn a profit.
Berluti-owner LVMH placed what Arnault called "a big bet" on making the unit close to a billion-dollar brand after he joined as chief executive officer in 2011. While revenue has quintupled to 150 million euros ($168 million), getting into the black has been a slower process, the accomplished poker player said in an interview at the 121-year-old company's atelier in Paris.
The maker of 7,000-euro bespoke shoes has been "a little bit late on the profitability issue," said 38-year-old Arnault, whose card-table winnings exceed $600,000, according to the Global Poker Index. "In the next couple of years it will be profitable."
His father, LVMH chief Bernard Arnault, said in 2013 that he expected Berluti to be profitable by 2016. The longer his son takes to turn a profit, the weaker his case may be to succeed the 67-year-old billionaire as head of the world's largest luxury-goods maker. Under Antoine's watch, LVMH has invested heavily in Berluti, opening large stores in major cities around the world and expanding into ready-to-wear items, like a $2,250 mohair and wool twill blazer.
Demand Cooled
While the push, which included acquiring French tailor Arnys in 2012, was spurred by surging sales of luxury menswear and accessories, demand has cooled amid an industry-wide slowdown. The shift has prompted Kering-owned Gucci to close its dedicated men's store in Milan and Prada SpA to focus on its women's line. LVMH, which has owned Berluti since 1993, is satisfied with the label's performance, Arnault said.
"The quality of the decisions so far has been correct, " said Armando Branchini, founder of consultant Intercorporate. Berluti is still losing money "mainly due to the lower growth rate of the market," he said.

The Berluti CEO's immediate concern is finding a new artistic director to replace Alessandro Sartori who's leaving to return to work for his former employer Zegna. He's not alone: Italian tailors Zegna, Brioni and Canali have all parted company with creative executives this year.
Arnault, who is also chairman of cashmere clothier Loro Piana, said he's interviewing for a replacement for Sartori and hopes to make an appointment before the summer. The new designer will need to inject "some kind of the casualness that I feel we might be lacking a bit right now," he said, ruling out former Salvatore Ferragamo creative director Massimiliano Giornetti, who quit in March.
'More Disruptive'
"I want something a bit more disruptive in terms of ready-to-wear," said Arnault, who joined LVMH in 2002. "A little more edgy, a little bit more modern."
Berluti, whose shoes have been worn by figures from writer Marcel Proust and artist Andy Warhol to actor Gerard Depardieu and soccer star Zinedine Zidane, will continue opening stores, though smaller than before, he said. The company is studying opportunities in markets where it's not present such as Australia. It's also looking at American cities such as Las Vegas, and will seek to expand through pushing into new categories, he said.
"Our ambition is to continue growing, of course," said Arnault. "It's clearly an important moment in time for Berluti."
Before it's here, it's on the Bloomberg Terminal.
LEARN MORE