Applied Materials Jumps Most in Seven Years on Sales Outlook
by
Orders for flash-memory systems surged in second quarter

New mobile display technology drives demand for machinery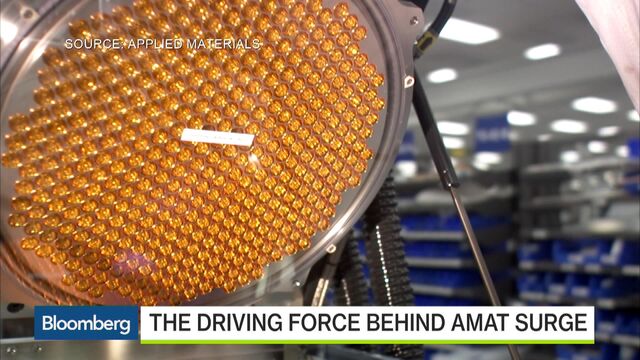 Applied Materials Inc., the biggest maker of machinery used to manufacture semiconductors, jumped the most in more than seven years after the company forecast third-quarter sales that may beat analysts' estimates, buoyed by a surge in demand from chipmakers upgrading production technology.
The company received $3.45 billion in new orders in the second quarter, which ended May 1, a leap of 52 percent from the prior three months. Machines that make flash memory, used as storage in phones and tablets, provided 49 percent of Applied's total of $1.97 billion in chip equipment orders. That area is being boosted by the switch to chips called 3D Nand. Companies that manufacture smartphone displays also flooded Applied's order books as they shift to new processes.
The shares surged as much as 14 percent, the biggest intraday increase since November 2008, to $22.75. They were trading at $22.58 at 9:51 a.m. in New York. Peers in the sector also gained, including Lam Research Corp., which rose 4.6 percent, MKS Instruments Inc., up 3.6 percent, and Amkor Technology Inc. which advanced 3.8 percent.
Improvements in Applied's business are being driven by semiconductor companies' focus on advancing their manufacturing techniques to remain competitive with rivals. While that fuels orders for newer types of gear, it may not be an indicator of an overall acceleration in electronics sales, and the company said demand for equipment will be little changed from last year.
"The overall market is roughly flat, maybe up a little bit," Chief Executive Officer Gary Dickerson said. "Underneath that there are big waves that are happening and we are in better position for those waves than any other company."
New Production
Revenue in the third quarter, ending in July, will rise 14 percent to 18 percent from the prior period, the Santa Clara, California-based company said Thursday in a statement. That indicates sales as high as $2.89 billion, compared with an average analyst estimate of $2.51 billion. Profit excluding certain costs will be 46 cents to 50 cents a share, compared with the average prediction for 36 cents.
The few chipmakers that can afford to stay on the leading edge of manufacturing are gearing up for a transition to 10-nanometer production. Taiwan Semiconductor Manufacturing Co. and Intel Corp. are leading that push, according to Edwin Mok, an analyst at Needham & Co.
"TSMC and Intel really want to start ramping the next node," said Mok. He recommends buying Applied Materials shares.
Net income in the second quarter, which ended May 1, fell to $320 million, or 29 cents a share, from $364 million, or 29 cents, a year earlier, Applied said. Revenue was little changed at $2.45 billion. Before some costs, profit was 34 cents. Analysts on average had predicted a profit of 32 cents on revenue of $2.43 billion.
Flat-Panel Displays
Applied is also the largest maker of machines that produce flat-panel displays. Speculation that Apple Inc. will start to use a new type of screen, based on organic light-emitting diode technology, had fueled optimism that there would be an increase in orders to meet that demand, according to analysts.
Applied got $700 million of display orders in the recent quarter, up from $183 million in the prior period. The company has already passed its average annual total.
"OLED display creates an incredible opportunity for us," Dickerson said. "This is going to be sustainable growth. This is not a peak."
Gross margin, the percentage of sales remaining after deducting the cost of production, was 41 percent in the second quarter, compared with 41.6 percent a year earlier. Applied needs to widen that margin after spending heavily on new products, according to Needham's Mok.
Before it's here, it's on the Bloomberg Terminal.
LEARN MORE