Analyst Downgrades and Upgrades Stock in the Same Morning
For the Regis salon chain, it was the unkindest cut of all.
by and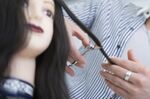 Here's something you don't see every day: Piper Jaffray analyst Stephanie Wissink downgraded and then upgraded shares of the hair salon chain Regis Corp. on the very same morning.
The rating changes revolved around confusion over how an overtime rule change announced by the U.S. Department of Labor will affect the company's bottom line. Beginning on Dec. 1, salaried employees earning below a certain threshold will be eligible for overtime pay if they work more than 40 hours a week. 
The change will be "major and costly" for Regis, Wissink wrote on Thursday. Under the impression that the company's store-level managers were salaried, she estimated that Regis's expenses would increase by $81 million. She reduced her price target on the stock to $8 from $13 and downgraded the shares to underweight from neutral. Regis then told her these managers weren't salaried and were already claiming overtime hours. 
"This was an element of disclosure that had not previously been known to us/the market and it dramatically affected the interpretation of the DOL rule change with respect to RGS financials," Wissink wrote in an e-mail to Bloomberg. "Minor detail with major implications! It's also different from industry standard so it was an important level of detail to disclose."
The rule change ends up affecting a much smaller number of employees at Regis. "Approximately 600 field managers are exposed, and as such, we are adjusting our estimates to reflect the field supervisors that are below the salary threshold," she wrote. "This impact narrows to closer to $5 million to $10 million based on our estimates."
Wissink then upgraded the stock back to neutral and raised her price target to $12 from $8.
The stock was down as much as 19 percent on the day before paring well over half its losses:

The shares were briefly halted as the company issued a public statement about the impact of the new overtime rule, estimating that it could raise costs by up to $5 million a year.
Before it's here, it's on the Bloomberg Terminal.
LEARN MORE