Wells Fargo Cuts Target on Valeant Citing Potentially 'Brazen' Executive Pay Packages
Some of the executives' pay seems outsized.
by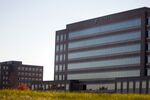 A fresh round of retention bonuses paid to senior executives at Valeant Pharmaceuticals International Inc. won't help the company's public image as the outlook for profit continues to deteriorate, according to Wells Fargo & Co.
In a note to clients, Senior Analyst David Maris highlighted an 8-K filing released Monday showing the company has reached agreements to give extra bonuses to members of its executive management team, including Chief Financial Officer Robert Rosiello, as well as Executive Vice Presidents Dr. Ari Kellen and Anne Whitaker. These are "the same executives that held managerial roles as Valeant faced major business, regulatory, legal, and accounting issues," writes Maris.
These pecuniary perks include a special retention bonus of $1 million for each member of that trio and special equity awards ranging from $1.25 million to $3.8 million in value.
The embattled drug company has already come under fire not only for its pricing practices but also its recent executive pay packages, with Maine Senator Susan Collins reportedly calling new Chief Executive Officer Joe Papa's haul "outrageous" after a Senate hearing. (Collins later explained that her comment came after a misunderstanding over Papa's $67 million compensation package, which would be paid out over several years, not one.) 
Shares have declined by 87 percent over the past year:

"We are surprised by these bonuses as we believe this opens the company up to criticism of being brazen in the face of public and government scrutiny for pricing practices," the analyst writes. "It is not hard to see the criticism that the retention bonuses are being paid with money Valeant gained through excessive price increases and being paid to executives who in part helped oversee these pricing programs."
Wells Fargo cut its valuation range on the stock to a range of $27 to $31 from $30 to $31 and also trimmed its 2017 earnings per share estimate while reiterating an "underperform" rating. A spokesperson for Valeant declined a request for comment.
Before it's here, it's on the Bloomberg Terminal.
LEARN MORE