Turkey Soccer Stocks' Post-Victory Crash Might Be Sport's Surest Bet
by and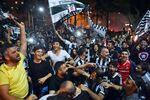 In a game that's become known for some high profile surprises, it's as close to a sure bet as you can get. Turkish soccer team wins the league: Turkish soccer team's stocks plummet.
Next to those who had to defy 5000-1 odds to win out on Leicester City's Premiership victory, followers of the country's Super Lig have it easy. Every Turkish winner without exception has seen their stocks lose value after becoming champions-elect. Over the last five years, the top club's shares dropped by an average of 15 percent in the week after their lead became unassailable.



The scale of the returns at stake makes this more than just a standard case of buy-the-championship-run, sell-the-fact. In advance of victory, shares in this year's top-finishing club Besiktas gained as much as 200 percent, from 2.15 liras at the start of the year to 6.5 liras in mid-April. Yet the 20 percent drop that's followed Sunday night's decisive 3-1 win over Ankara's Osmanlispor means that for investors chasing out-sized profits, timing is everything.  
Besiktas's failure to make a profit since 2008 underscores that these movements are highly speculative, driven by few fundamentals other than league glory.  

"Investors price the championship battle, and they have no story other than that," Ridvan Basturk, research analyst at Istanbul-based ALB Forex, said by phone yesterday.  "Once the winner is known, the story ends. Next year, at around this time, we will be having exactly the same conversation for the team that is the most likely to win."

In addition to Besiktas, publicly traded Turkish sports teams include the two other major Istanbul sides Fenerbahce and Galatasaray. All three are among the most volatile stocks on the Turkish exchange, with shares in last year's winner, Galatasaray, climbing to more than double their value this time last year before plunging back to previous levels. 
Before it's here, it's on the Bloomberg Terminal.
LEARN MORE