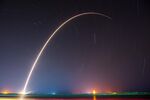 When Elon Musk's Space Exploration Technologies (known as SpaceX) set a rocket down on a barge floating in the Atlantic Ocean on May 6, many cheered it as the latest sign man is quickly moving toward being able to explore brave new worlds. Yet the more immediate beneficiaries of SpaceX's satellite-ferrying rockets will be businessmen checking e-mails from Singapore Airlines flights above the South China Sea or teens posting photos on Facebook from Indonesia's jungles.
While the global satellite industry brought in $203 billion in revenue in 2014, the latest year for which Satellite Industry Association data are available, only $5.9 billion of that came from launches. Half of satellite revenue, $100.9 billion, came from consumer services, such as transmitting TV programming or cell phone calls, or providing broadband Internet via satellite.

The demand for constant Internet connectivity is fueling a surge in satellite launches by rocketeers such as SpaceX, Arianespace, Eutelsat Communications, and SES. Liftoffs may increase 30 percent during the next five years as airlines, phone companies, electronics makers, and carmakers seek bandwidth. Satellite demand in Asia is further boosted by efforts to bring service for the first time to people in places such as India and Indonesia. The two nations are home to 20 percent of the world's population, but most people there are offline.
That portends good business for satellite builders such as Airbus Group, Boeing, and Lockheed Martin as annual production of the machines is expected to quintuple, to 50, says Richard Bowles, managing director for Arianespace's Asean region. "Satellites are showing to be a large part of the communications infrastructure," he says.
There were 208 satellites launched in 2014, up from 107 a year earlier. SES plans six launches through 2017, and Eutelsat plans five during the next four years. Arianespace's backlog for launches topped 50 at the end of last year. And SpaceX plans 18 this year—triple last year's number. The company put a Japanese commercial communications satellite into orbit during its May 6 launch. "We're expecting by maybe the third or fourth quarter that we would be doing a launch every two or three weeks," Musk said during an April 8 briefing.
Transport businesses are spurring demand. Singapore Air plans to have high-speed Wi-Fi on its planes in the second half of 2016. It signed with Honeywell Aerospace in November and will use Inmarsat satellite service.
Passengers on more than 2,000 commercial planes connect to the Internet using SES satellites, Chief Executive Officer Karim Michel Sabbagh said on a Feb. 26 earnings call. It leases bandwidth to airborne Wi-Fi providers Global Eagle Entertainment, Gogo, and Panasonic Avionics.
Panasonic Avionics beams Wi-Fi to more than 3,000 aircraft and expects to add 12,000 more within a decade, spokesman Brian Bardwell said in an e-mail. "We believe that just about every narrowbody aircraft will at some point be equipped with broadband connectivity," he said. "Satellite-based service is hands down the best option for our customers."
Singapore Telecommunications recently took more capacity on a Eutelsat satellite to improve network connectivity in Southeast Asia, and in April it partnered with Inmarsat to protect data in ships' bridges from hackers. O3b Networks has enabled Royal Caribbean Cruises ships to have high-speed connections.
"There are certainly more and more satellites going up, and it's going to grow," says Shiv Putcha, associate director at market researcher IDC in Mumbai. "The potential is more pronounced in Asia. There is a higher need for this in this part of the world."
 
—With Chris Cooper and Jungah Lee
The bottom line: Half of the $203 billion in satellite industry revenue in 2014 came from consumer services such as TV shows and broadband.
Before it's here, it's on the Bloomberg Terminal.
LEARN MORE