Is the End of Economics 101 Nigh? Nordic Bankers May Know Answer
by
Is the link between monetary policy and inflation broken?
The central bank governor of Denmark, where nominal rates have been negative longer than anywhere else in the world, says there may be signs that the link has grown weaker.

"We're in a territory where we don't have very much experience, so we can't rule out the possibility that the relationship between rates and inflation isn't as strong as it used to be," Lars Rohde, 62, said in an interview at the central bank in Copenhagen. "Inflation requires demand pressure and globally there's very little demand pressure."
QuickTake: Negative Interest Rates
Though Denmark is using negative rates to defend the krone's peg to the euro, the unprecedented period of monetary stimulus provides some clues as to how such a policy affects price developments. The experiences may ultimately upend the basic assumptions that have dominated central bank theory since the 1990s, when inflation targeting became popular.

"In the inflation policy debate there was always an assumption that it's much easier to pull a string than to push a string," said Torben M. Andersen, professor of economics at Aarhus University. "But we don't have much experience in just how difficult it will be to succeed in what central banks around the world are now trying to do."
The Facts
Danish inflation has stagnated completely since March after hovering well below 1 percent for about two years. The government recently slashed its forecast for economic growth for 2016, to 1.1 percent from 1.9 percent. The euro peg, on the other hand, is intact.
But as central banks from Switzerland to Japan drive their policy rates below zero, the absence of inflation in economies flooding the ether with money is striking. Annual consumer prices in Japan fell in March, while Switzerland has struggled with deflation for almost half a decade. Even in the U.S., where gross domestic product is growing faster than 2 percent annually, there was virtually no inflation last year.
In the euro zone, the feeling is that the European Central Bank should consider overshooting its inflation goal for a while to make up for a long period of near-stagnant prices, according to Governing Council member Erkki Liikanen. The ECB has fallen short of its goal of keeping price growth just under 2 percent in recent years and the rate was minus 0.2 percent last month.
In Sweden, where central bank rates have been negative for more than a year, Riksbank Deputy Governor Cecilia Skingsley said monetary policy may need to become more "flexible" in future. That's because the existing framework is "not really as efficient as it was previously perceived to be," she said on Thursday.

"The traditional wisdom is that monetary policy is a very forceful instrument if you're trying to dampen inflation," Rohde said. "The other way around, it may not be that forceful simply because you have to go through a very long chain of effects."
Diminishing Returns
"If the overall problem is a lack of demand and you have a lot of idle resources, both people and capital, it takes much longer and possibly is less forceful," he said.
Rohde suggests the seeds of the current trend were planted decades ago, in the 1980s, after two oil crises triggered a period of double-digit inflation, provoking an emphatic monetary policy response.
"Of course we could see a reversal of that." he said. "We don't know when and why. We can look at what the market expects and market participants seem to expect low for long, low for very long in fact. "
While there's so far scant evidence that extreme monetary stimulus is supporting consumer price growth, the global economy would be far worse off had central banks not done what they did since 2008, according to Rohde.
"What you could of course question is whether there is more to come, whether you can stimulate further," he said. "I think it's well-recognized that the marginal return on monetary policy has diminished."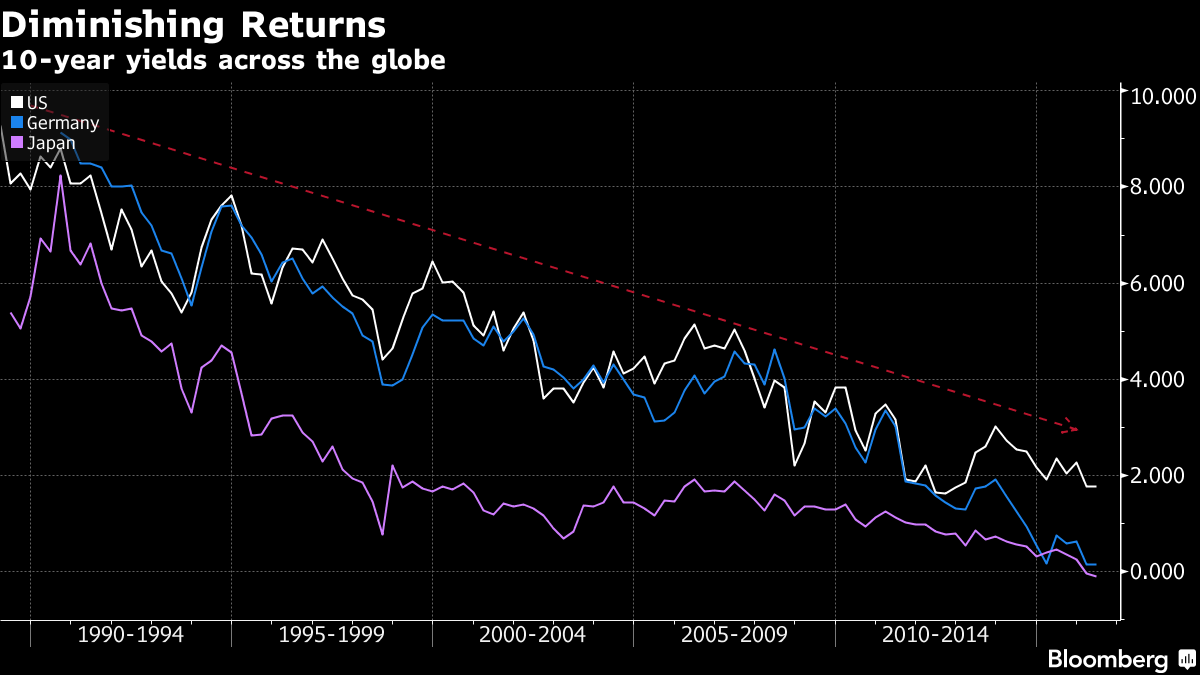 Before it's here, it's on the Bloomberg Terminal.
LEARN MORE