Suzuki Shares Plunge After Flawed Fuel-Efficiency Test
by and
Shares tumble as much as 15% as company reports to ministry

Chairman Osamu Suzuki schedules briefing with reporters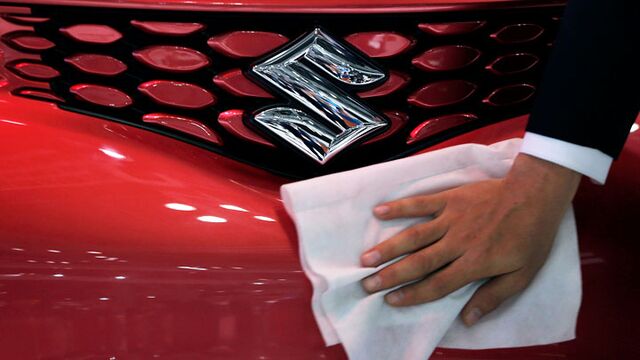 Suzuki Motor Corp. plunged after saying it used an improper method to test the fuel efficiency of its vehicles, widening a scandal for Japan's auto industry that first originated with Mitsubishi Motors Corp.
Chairman Osamu Suzuki will report the issue to Japan's transport ministry Wednesday, spokesman Hidehiro Hirano said by phone. The company hasn't found a flaw affecting the fuel efficiency of Suzuki vehicles, he said, without elaborating. Suzuki, 86, will brief reporters at 4 p.m. Tokyo time, according to an e-mailed statement.
Suzuki tumbled 9.4 percent, the biggest decline in more than seven years, at the close in Tokyo. The stock had tumbled as much as 15 percent earlier today. The company has a market value of about $11.7 billion, and the stock is down 29 percent this year.
"The impression is bad, especially as the market has become very jittery after the Mitsubishi scandal," Koji Endo, a Tokyo-based analyst with Advanced Research Japan, said by phone. "Even if they didn't manipulate data, this is still bad."
Suzuki is the first automaker to step forward with potential wrongdoing after Japan's transport ministry asked companies to conduct internal investigations in the wake of Mitsubishi Motors' scandal that began last month. Mitsubishi Motors overstated the ratings of four minicar models by as much as 10 percent, manipulated data related to those cars and has been investigating use of improper testing of other models dating back to 1991.
Balance Sheet
With about $6.9 billion in cash and equivalents, Suzuki's balance sheet as of March 31 was better positioned to weather a scandal compared with Mitsubishi Motors, which reported about $4 billion. Mitsubishi Motors last week said it plans to sell a 34 percent controlling stake to Nissan Motor Co. for about $2.2 billion.
At about $17 billion, affiliate Maruti Suzuki India Ltd. has a higher market value than its majority owner. Maruti Suzuki's shares declined as much as 3.7 percent, the biggest intraday drop in six weeks, as of 11:45 a.m. in Mumbai trading.
About 22 percent of Suzuki's 2.86 million worldwide vehicles sales were in Japan during the fiscal year ended in March, as the company has shifted its focus to expanding in India. Maruti last month reiterated that Suzuki will start production at its wholly owned factory in India's western Gujarat state in January.
Japan Slump
Suzuki has built fewer vehicles in Japan for 13 consecutive months and reduced domestic output last fiscal year by 18 percent. In March, the company's Japan dealers began selling the imported Baleno hatchback, built by Maruti in India's northern Haryana state. The strength of its Japan lineup is in the minicar market, where it trails only Daihatsu Motor Co.
Toyota Motor Corp., Nissan Motor Co., Honda Motor Co., Mazda Motor Corp., Daihatsu and Fuji Heavy Industries Ltd.'s Subaru said they found no issues with fuel tests.
Mitsubishi Motors President Tetsuro Aikawa has decided to leave the automaker because of its scandal, the Nikkei reported earlier Wednesday, without saying where it got the information. Osamu Suzuki ceded the role of president to his son Toshihiro, 57, in June 2015 after leading the company for 37 years.
Kyodo reported earlier Wednesday that Suzuki may have improperly tested for fuel economy and would meet with Japan's transport ministry.
Before it's here, it's on the Bloomberg Terminal.
LEARN MORE