Superforecasters See 23% Brexit Chance as Economy Wins Out
By
Chances of U.K. voting to leave dropped from 37% in April

Citigroup, Societe Generale see higher chance of split with EU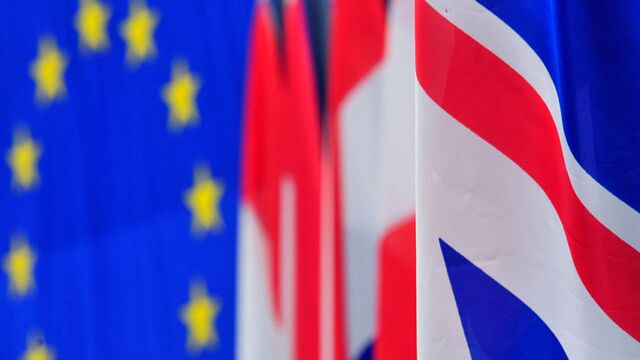 As he wrestled with whether to push for Britain to abandon the European Union earlier this year, Michael Gove dedicated some time to reading a bestselling book on how to parse the future.
QuickTake Will Britain Leave the EU?
Three months after the 48-year-old justice secretary put his political career on the line by breaking with the government to join the "Leave" campaign, those that helped inspire "Superforecasting: The Art & Science of Prediction" are diving into the Brexit debate.
Their outlook will likely disappoint Gove and surprise some investors. According to Good Judgement Inc.'s panel of "superforecasters," there is just a 23 percent chance voters will choose to leave the bloc in the June 23 referendum, down from 24 percent on Tuesday. That suggests there is less uncertainty over the result than opinion polls are signaling and undershoots the probabilities calculated by banks including Morgan Stanley, Citigroup Inc. and Societe Generale SA.
"I would say 'expect the status quo' reasonably confidently," said Michael Story, 32, who recently completed a graduate degree in public policy at the London School of Economics.
Consulting Boris
Story is among 150 people around the world whose track record in making successful predictions led to them being invited to join Good Judgement Inc., the consultancy set up by Philip Tetlock, co-author of the 2015 book. Gove was photographed with a copy of it in his bag after a February meeting at the home of then-London Mayor Boris Johnson, who is also campaigning for Brexit.
The group has grown increasingly confident the U.K. will opt to stay. In April it put the chances of Brexit at 37 percent.

U.S. President Barack Obama's warning that the U.K. would suffer outside the bloc helped force the estimate as low as 18 percent on May 10 before a pickup in support for Brexit among voters and some business leaders lifted it.
Warren Hatch, chief investment strategist at Catalpa Capital Advisors in New York and another superforecaster, says the likelihood is still low because economic rather than political arguments are leading the headlines. The Bank of England and International Monetary Fund have both warned of a possible recession if the U.K. chooses to leave the EU.
"The nature of the debate has focused more on the economy than the politics," said Hatch. "If it was politics dominating I'd have a higher likelihood."
Analysts Disagree
The 23 percent assessment suggests some investors may be overestimating the risk of Brexit. Economists at Societe Generale have put the probability at 45 percent, Morgan Stanley at 35 percent and Citigroup between 30 percent and 40 percent.
"The risk is very significant," Andreas Utermann, chief investment officer at Allianz Global Investors, told Bloomberg Television on Wednesday.
Opinion polls are also signaling a close race. A telephone survey conducted May 13-15 by ICM for the Guardian newspaper found 47 percent support for remaining and 39 percent for leaving. An online poll by the same company showed 47 percent for Brexit and 43 percent against.
Still, another phone survey released on Wednesday by Ipsos Mori showed the biggest lead in three months for staying. The poll for London's Evening Standard newspaper showed 55 percent of respondents saying they want to stick with the bloc versus 37 percent seeking to quit.
Number Cruncher
The estimate of the superforecasters is in line with political blogger Matt Singh's view. His Number Cruncher Politics Referendum Forecast incorporates current polling and an analysis of how voters shifted in previous referendums. It put the likelihood of Brexit at 24 percent on Tuesday.
It also tallies with wagers at bookmakers. Ladbrokes Plc says the odds it is currently offering imply a chance of about 75 percent that the U.K. will stay in the bloc.
"It winds up the pollsters, but follow the money," Ladbrokes Chief Executive Officer Jim Mullen said in a May 13 interview.
Tetlock's work is winning fans among investors. It inspired Richard Mylles, a political analyst at London-based Absolute Strategy Research Ltd., to put his book's advice to work. He initially ranked the chance of Brexit at 38 percent before lowering it to 30 percent.
"Clients seem to really like it," said Mylles. "Quite a few have read the book and like the idea that there can be more objective rigor in forecasting."
Inside and Outside

Making accurate forecasts requires people to blend what Tetlock, a political scientist at the University of Pennsylvania, calls inside and outside views. Good forecasters also show a willingness to shift gears as new information comes in, rather than become ingrained in a position.
In the case of Brexit, the inside view means weighing up how well the different campaigns appear to be faring and chatting to friends about their voting intentions. An outside view would be gleaned from the results of past independence referendums.
"Most of the time, independence campaigns do not succeed," said Story, pointing to the 2014 referendum in which Scottish voters chose to remain part of the U.K.