Spain Dares EU Budget Police to Start First Ever Sanctions
by and
Commission to consider action on persistent deficit violations

Imminent election may persuade commission to postpone decision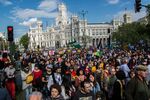 Spain's caretaker government may be about to learn just how far its European Union budget masters can be pushed.
EU commissioners meet Wednesday to discuss taking action after Acting Prime Minister Mariano Rajoy breached his country's budget limit for a fourth successive year. They face an awkward decision, with the commission's number crunchers recommending measures against Spain as the country prepares for its second election in six months, according to three people familiar with the EU executive's analysis.
If they follow the advice of their staff, the commissioners will rule that Spain has failed to deliver effective action to correct its deficit, despite repeated warnings, opening the door for sanctions including the politically toxic return of EU inspectors to Madrid and even a fine. The group may be persuaded to postpone a decision though, to avoid interfering with the vote, one of the people said.
The deficit meeting falls at a delicate moment, with Rajoy clinging to power after losing his parliamentary majority in December -- despite the last-minute tax cuts that saw Spain overshoot its deficit target by almost 1 percent of output. A negative assessment has to be approved by EU finance ministers before the commission proposes a penalty.
"The commission has to find the balance between enforcing the rules while avoiding jumping into the middle of the election campaign," said Nick Greenwood, a Madrid-based analyst at Analistas Financieros Internacionales. "Spain has repeatedly missed the targets."
The commission's budget analysts consider they have little choice but to take action against Spain if they are to maintain the credibility of their rules, the people said. The EU has already relaxed Spain's targets three times since 2009.
Indeed, rather than trying to convince the commission of his commitment to stabilizing the public finances, Rajoy promised he'll cut taxes again if he can form a govern after the June ballot in a newspaper interview yesterday.
Yet the commissioners themselves may be wary of crossing that threshold, with other countries also in breach of the rules. While France, Italy, Portugal and Spain have all received warnings in recent years after missing targets on deficit or debt, no country has so far been sanctioned.

Even if the commission does inch toward sanctions, EU finance chiefs may delay the next step until after the June 26 ballot. Ministers may not get round to discussing Spain's situation until their meeting on July 12, according to a European official with knowledge of their agenda.
Moscovici's View
Since the rules were beefed up in 2011 and 2013 in response to the debt crisis, the commission has stronger powers to push for sanctions against member states including fining countries that persistently breach their deficit commitments as much as 0.2 percent of their gross domestic product and send troika-style inspectors to scrutinize national officials.
Spain's deficit was 5.1 percent last year, compared with a target of 4.2 percent, a "non-negligible amount" according to European Commission Vice President Valdis Dombrovskis. The commission forecasts that Spain will miss its goal again in 2016.
Economic Affairs Commissioner Pierre Moscovici told Spanish lawmakers at the European Parliament in Strasbourg, France, last month that he understands the country will need more time to meet its deficit goals. It's possible for the commission to push back Spain's deficit targets and sanction the government at the same time.
"We have been saying for a long time that the deficit objectives that the government negotiated with the European Commission were unrealistic," said Manuel de la Rocha, the head of economic policy at the Socialist Party, the biggest opposition group. "It's clear that we were right, but this is coming out at a significant cost to the country's credibility."
When Spain entered the EU's Excessive Deficit Procedure in 2009 it was given until the end of 2012 to bring its shortfall below the 3 percent limit. Despite giving extensions on that time frame in December 2009, then 2012 and 2013, the commission is still waiting for Spain to meet its commitment.
Rajoy, who took power in 2011, acknowledged last month he won't meet the target this year either and pledged to comply in 2017.
Before it's here, it's on the Bloomberg Terminal.
LEARN MORE