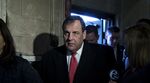 The abuse-of-power scandal known as Bridgegate started with orange traffic cones. For four consecutive mornings in September 2013, cones were rearranged on the New Jersey side of the George Washington Bridge, reducing to one from three the lanes reserved for vehicles from the closest town, Fort Lee. The bridge is the world's busiest, connecting New Jersey with New York City's Manhattan Island. The resulting gridlock still dogs New Jersey Governor Chris Christie, a leading booster of presumptive Republican presidential nominee Donald Trump.
1. Why were the lanes shifted?
The initial explanation was a traffic study. In fact, the shift was ordered, and the resulting mess privately celebrated, by Christie allies who, according to prosecutors, were seeking retribution against Fort Lee's mayor for not backing Christie's re-election.
2. Who was involved?
David Wildstein, who worked at the agency that runs the bridge, the Port Authority of New York and New Jersey, pleaded guilty last year to conspiracy. He said Bridget Kelly, who was Christie's deputy chief of staff, and Bill Baroni, a Christie appointee at the Port Authority, also were involved. A month before the lane change, Kelly e-mailed Wildstein, "Time for some traffic problems in Fort Lee." Media organizations are seeking the names of others who prosecutors say joined the plot but weren't indicted.
3. Did Christie have a role?
That's the big question. Wildstein's lawyer has said, without elaborating, that evidence shows Christie knew about the bridge bottleneck while it was happening. Christie says he had no inkling until afterward. An inquiry commissioned by Christie's administration said he "knew nothing about it." An investigation by the Democratic-controlled New Jersey Legislature said Christie's possible role was hard to pin down.
4. What's next?
Kelly and Baroni face a joint trial Sept. 12. They face counts including conspiracy, wire fraud and civil-rights violations. Wildstein won't be sentenced until after he testifies as a prosecution witness.
5. What's the fallout?
Bridgegate loomed over Christie's unsuccessful campaign for the Republican presidential nomination. His popularity in New Jersey has plunged to historic lows, with recent polls showing that fewer than three in 10 residents approve of the job he's doing. With his term ending in January 2018, Christie could find political rebirth in a Trump administration, perhaps even as vice president.
The Reference Shelf
• A Bloomberg article on what else is wrong with the agency that runs the bridge.
• A Bloomberg article on Christie's withdrawal from the presidential campaign.
Before it's here, it's on the Bloomberg Terminal.
LEARN MORE