Japan's Topix Index Closes Higher After Whipsawing on GDP Data
by and
Economy grew 1.7 percent in first quarter, averting recession

All eyes turn to Shinzo Abe's proposed sales-tax increase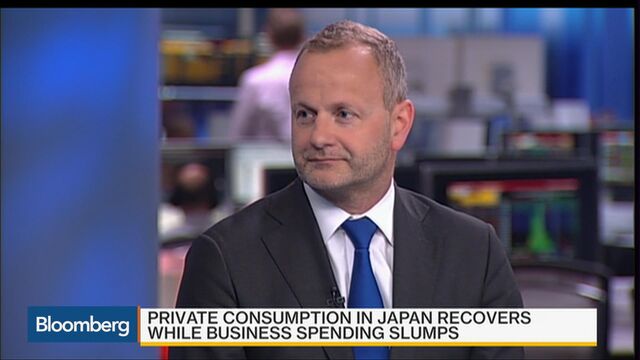 Japan's Topix index closed higher after fluctuating for most of the day as investors weighed the impact of strong-than-expected economic growth on the government's decision on future stimulus and a planned sales tax hike.
The Topix rose 0.2 percent to 1,338.38 at the close in Tokyo after swinging between gains of 1 percent and losses of 0.6 percent. The Nikkei 225 Stock Average lost 0.1 percent to 16,644.69 after data showed gross domestic product expanded an annualized 1.7 percent in the three months through March, beating economist estimates for 0.3 percent growth, and averting a recession. The economy shrank a revised 1.7 percent in the previous quarter.
"The market's trying to decide how to interpret the GDP data," said Masahiro Yamaguchi, a senior market analyst at SMBC Trust Bank Ltd. "We can see some growth in consumer spending and public investment, but considering the effects from the leap year, we can't take it at face value as positive data."

The GDP figures -- which were boosted by the leap year -- supported the Bank of Japan's surprise decision at its last meeting to forgo additional monetary stimulus. The focus now shifts to whether Prime Minister Shinzo Abe will push ahead with a planned sales-tax increase.
Sales Tax Delay
The market rose on Monday after a Nikkei newspaper report over the weekend that the government was planning to delay the tax hike. The government has denied the report and Abe told parliament on Tuesday he will go ahead unless there is a "serious event."
Investors took their time in interpreting the GDP data, with the Topix swinging between gains and losses more than 10 times during the day. More stocks fell than rose, but gains at larger companies were enough to push the index higher.
The data "was better than anticipated, so the expectation that the government will take further steps in terms of supportive policy may be drying up a little," said Masahiro Ichikawa, a senior strategist at Sumitomo Mitsui Asset Management Co. in Tokyo. "If the GDP growth figure was, as expected, a small increase, we might have seen more hopes for supportive policy, but with the data being better than expected the view now is the size of the policy package may not be that significant."
Banks Rally
Banks were the second-biggest gainers on Tokyo as the brighter economic outlook lowered chances the BOJ may push interest rates further into negative territory. Mitsubishi UFJ Financial Group Inc. jumped 4.3 percent, while Sumitomo Mitsui Financial Group Inc. climbed 3.4 percent.
"Investors are buying back bank stocks that would be hit if there's a further lowering of borrowing rates," said Hideyuki Suzuki, general manager at SBI Securities Co. in Tokyo.
Energy shares continued rallying as crude futures held gains, trading above $48 a barrel. Oil explorer Inpex Corp. soared 8.1 percent, also benefiting from a positive brokerage report, while Japan Petroleum Exploration Co. added 4.3 percent.
Small Cap Rout
Gains in bank and energy shares were overshadowed by losses in smaller stocks, with the TSE Mothers Index plunging 7.8 percent, the most in three months. Sosei Group Corp., which represents 16 percent of the index, sank 20 percent, the most since March 14.
Suzuki Motor Corp. plunged 9.4 percent, the most since 2008, after saying it may have used improper methods to test the fuel economy of its vehicles. The move potentially widens the scandal for Japan's auto industry that has seen Mitsubishi Motor Corp. lose almost half of its value this year.
Utilities led losses in Tokyo trading, with Chugoku Electric Power Co. sliding 1.9 percent. The moves mirrored those in the U.S., where utilities fell as rising Treasury yields made their dividends less attractive.
Mobile carriers were the second-biggest losers among the Topix's 33 industry groups. NTT Docomo Inc. fell 1.1 percent and KDDI Corp. dropped 2.1 percent, declining for a second day, after Bloomberg News reported the government may take further steps to pressure the companies to offer cheaper plans.
Futures on the S&P 500 slipped 0.1 percent after the underlying U.S. equity gauge slumped 0.9 percent on Tuesday. Losses accelerated in afternoon trading as reports on inflation and housing bolstered speculation the Federal Reserve will raise interest rates as early as June.
Before it's here, it's on the Bloomberg Terminal.
LEARN MORE