Hong Kong Stock Inflows From China Surge as State Leader Visits
by
Mainland investors used up 2.6 billion yuan of a daily quota

Surge in buying was 'very unusual,' Reorient analyst says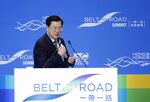 Hong Kong's stock market needs all the help it can get. On Tuesday, aid came in the form of the biggest inflows from mainland investors in a year.
The surge happened as the Communist Party's No. 3 official arrived in the the city. Zhang Dejiang, the People's Daily said, would bring "confidence and hope" to a city facing a contracting economy. Mainland institutions appeared to be behind the purchases, according to Reorient Financial Markets Ltd.
"The move was very unusual and looked like Chinese institutions buying," said Steve Wang, chief China economist at Reorient Financial Markets Ltd. in Hong Kong. "It coincided with Zhang Dejiang's Hong Kong trip. Despite all the roads being sealed by police officers, Zhang's visit might look slightly more cheerful with stocks rising."

China's authorities have been known to intervene in mainland markets before key national events, including this year's National People's Congress and August's military parade celebrating the 70th anniversary of victory over Japan during World War II. Zhang is the most senior mainland official to visit Hong Kong since then-President Hu Jintao in 2012 and his tour comes amid increasing calls for the city's autonomy from Chinese rule.
Cross-Border Inflows
Mainland investors used up 2.6 billion yuan ($403 million) of their daily quota for buying Hong Kong shares via an exchange link with Shanghai on Tuesday, the most since April 23, 2015, according to data compiled by Bloomberg. The Hang Seng Index rose 1.2 percent, the biggest gain in almost a month. Among the most traded shares by Chinese traders were HSBC Holdings Plc, Tencent Holdings Ltd. and Industrial & Commercial Bank of China Ltd. Such gains weren't matched in Shanghai, where the benchmark index slid 0.3 percent.
Hong Kong could do with some cheering up. The Hang Seng Index of the city's biggest stocks is down almost 10 percent this year, extending 2015's losses. Its economy unexpectedly shrank 0.4 percent in the first quarter as retail sales tumbled and the housing market sagged. Goldman Sachs Group Inc. predicts home prices will plunge 20 percent through 2018 in a city where a currency peg with the greenback means interest rates moves in sync with those in the U.S.
Citywide Protests
The former British colony's reputation for its rule of law has been tested by China's suspected abduction of booksellers from the city. Rancor over the city's future has spilled on to the streets, with a violent riot in February and citywide Occupy protests that stretched for months in 2014.
Since his arrival, Zhang promised to listen to suggestions about how Beijing could maintain the city's autonomy, while he praised the leadership of Hong Kong's unpopular Chief Executive Leung Chun-ying. Zhang is attending a global infrastructure forum, where he talked about the opportunities that President Xi Jinping's "One Belt, One Road" project can bring to the city of 7.2 million.
For Hong Kong stock investors, the good news was brief. The Hang Seng Index slumped 1.45 percent at the close, more than erasing Tuesday's gain. Mainland investors, who used up 25 percent of the quota yesterday, took less than 11 percent on Wednesday.
Zhang's failure to provide details on the progress of a delayed exchange link with Shenzhen may be worsening declines. Speculation he would announce the start date for the program helped boost shares in both cities on Monday.
Before it's here, it's on the Bloomberg Terminal.
LEARN MORE