Luxury Travel
Scale a Crater in Israel's Negev Desert
Hike, rappel, and lose yourself in the vistas of Israel's answer to the Grand Canyon
By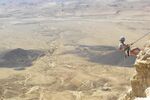 The northeasternmost end of the Negev Desert, nestled between Jerusalem and the Dead Sea, is an arid, rocky, sublimely beautiful region called the Judean Wilderness. Here, climbers can scale the walls of the Nachal Rachaf, one of the deepest and narrowest canyons in the country, then abseil down dry waterfalls or jump into pools left over from winter rains. At the almost 400-foot-tall cliffs of nearby Chatzatzon, guides begin the ascent for advanced climbers at 3 a.m. and arrive at the top at dawn.
Beginners get their fix farther south by rappelling into the Makhtesh Ramon, a 1,640-foot-deep geological marvel in the heart of this lunar landscape. (Commonly called a crater, it was in fact formed by water erosion over millions of years, not a meteor or volcano.)
The time to go is early summer, when local operator Tourist Israel offers customizable daylong excursions (from $1,000 for a group of four). The most amazing views in the area are at the five-star Beresheet Hotel, where an infinity pool runs up to the cliff's edge to overlook the vista below (from $667 for a room with a view of the crater).


Before it's here, it's on the Bloomberg Terminal.
LEARN MORE