Google Shows Off AI to Keep Up with Facebook, Amazon, Apple
By
Allo app, with digital assistant, may fill messaging hole

Home device aimed at Amazon's surprise hit search gadget Echo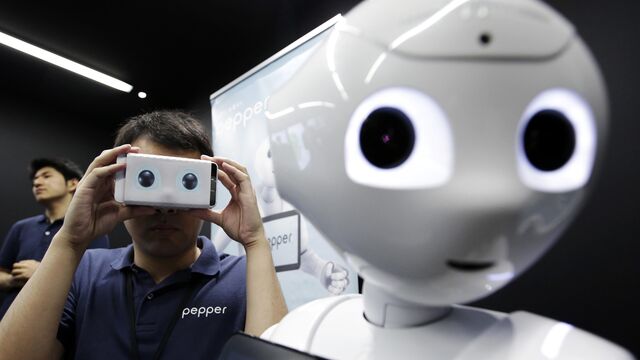 Google announced a dizzying array of new apps, devices and platforms Wednesday to keep rivals from turning its once-dominant search engine into a relic in the age of mobile computing and beyond.
The most important unveiling at Google's I/O developer conference near its Silicon Valley headquarters was Allo, a mobile messaging app featuring a digital assistant that uses artificial intelligence to respond to texted questions and perform other useful tasks. Then there was Duo, a video calling app to rival Apple Inc.'s popular FaceTime video conferencing.
The Alphabet Inc. division also revealed Google Home, a gadget to answer voice-based questions that competes with Amazon.com Inc.'s hot-selling Echo device, and Daydream, a suite of software and hardware for virtual reality, an area where Facebook Inc. has made early strides.
"Google missed and has holes in some areas, like messaging and social media, which have turned into the platforms that mobile consumers use most," said Julie Ask, an analyst at Forrester Research. "Google has to go out and engage these people where they are now."
If Google can use its lead in artificial intelligence to build digital assistants that help people through connected devices whereever they are, then it has a chance of replicating the success of its search engine, Ask and other analysts said.
"If that all comes together -- a big if -- that would be very compelling," said Brian Blau, an analyst at Gartner. "There were some slick presentations today, but often those don't pan out in reality. Let's see how they perform."
Conversational interface
Google became one of the world's most valuable companies by making a search engine that sucks in billions of queries people type into web browsers on PCs and phones. Google sells ads based on those indications of intent and desire. But that search advertising money machine is at risk as computing evolves and gives people new ways to find what they want -- and new avenues for competing companies to satisfy those wants.
With the future of search -- and intent-based advertising -- up for grabs again, AI has become a big strategic area of investment for many technology companies. The bet is that whoever makes the most engaging and useful digital personal assistant, also known as the conversational interface, will control the layer between a person and their digital life, and collect the most revenue and profit from being that privileged broker.
Key to Google's quest for more consumer attention in a mobile computing world is software that better anticipates their needs and learns about them. The Allo messaging app, which comes out this summer, will suggest responses to messages by reading and understanding people's text conversations. Type in "@google" and the company's digital assistant is summoned to provide AI-powered services, like finding restaurants and booking tables, or searching for movies.
Allo may help Google combat the rise of messaging apps from rivals like Facebook and Snapchat, which are among the most popular on smartphones running Google's Android operating system. Facebook is already building AI-powered services into its Messenger app and other companies like Microsoft Corp. are working on similar technology.
After Allo, Google plans to release the Google Home device that people can speak to. The gadget will play music, communicate with other Google devices, and answer questions using Google's AI assistant and its search engine, along with managing other Google products like Calendar and Gmail. People will summon it by using the same call out -- "OK, Google" -- that is used in other existing Google mobile apps. "Hey, Google" will also work.
'Ambient experience'
Google Chief Executive Officer Sundar Pichai said the goal is to develop an "on-going two-way dialog with Google" and build billions of people their own "individual Google." The CEO sees the Google digital assistant as an "ambient experience that extends across devices."
"Google is evolving and staying one step ahead of our users," he added during a presentation to more than 7,000 developers and other conference attendees.
The company is coupling this push into AI-powered assistance with more work on virtual reality, an area that technology companies anticipate being as crucial in the future as smartphones are today.
Daydream includes a range of VR-capable Android smartphones, a headset design, a controller and applications. Google is taking on rivals including Facebook's Oculus by tapping into its large developer community. To do that, the company has embedded VR applications into its Android operating system, which is used by more than a billion people.
Google is using a similar strategy to the way it has used Android to compete with Apple in smartphones -- build great software, marry that to cheaper hardware and then attach it to an ecosystem populated by as many developers as possible. Daydream's integration with Android means it can piggyback on a vast mobile-phone user base to get its own approach to VR in front of millions of people's eyeballs (literally).
The two-hour long main I/O presentation Wednesday showed the importance of data to Google. Every decision it makes is either enabled or informed by the vast data gathering that the popularity of its older services makes possible. Its AI relies on accumulating ever more data, which lets it add smarter capabilities to its apps and operating systems, which in turns drives adoption, providing the fuel for new ventures like virtual reality.
"Google has the data," said Forrester's Ask. "It needs more audience in messaging and communication to take a real shot at the next era of computing."