Google Expands Virtual Reality Ambition With Headset, Controller
by and
Daydream platform encompasses software, phones, headset design

Company wants to make VR widely available and affordable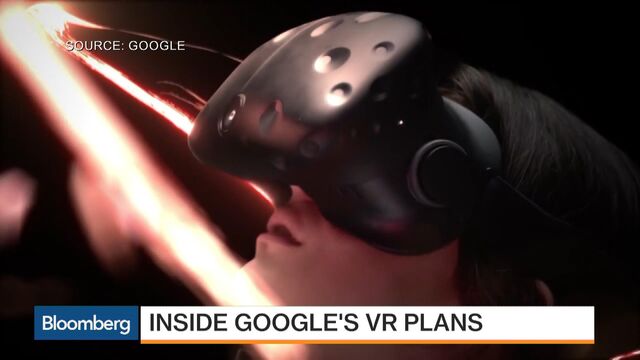 Google is expanding its virtual reality ambitions with a new system called Daydream, which encompasses a range of VR-capable Android smartphones, a headset design, a controller and applications.
The Alphabet Inc subsidiary will release Daydream this fall, said Clay Bavor, Google's vice president of virtual reality, at its I/O developer conference near its Silicon Valley headquarters Wednesday. "Daydream is our platform for high-quality mobile virtual reality," Bavor said.
Daydream is designed to make VR ubiquitous by working with current and future versions of the company's Android mobile operating system, the latest of which is code-named Android N.
"What that means for developers is there are going to be a lot of Daydream ready phones," Bavor said.
Companies including Samsung Electronics, Alcatel-Lucent, Asustek Computer, HTC, Huawei Technologies, LG Electronics, and Xiaomi are building phones compatible with Daydream specifications, Bavor said, noting that several will be ready this fall.
The company is working with companies like Netflix, CNN, HBO, and Hulu to build new applications for Daydream, he said. Also it's re-writing Google's own software, including Photos, Google Play Movies, Street View, and YouTube, to work with the system.
Along with that, Google has created a new controller to help people interact with the VR software and content, for instance sending a virtual dragon swooping up and down in a VR video game.
Google's first public foray into virtual reality was Cardboard, which lets people turn phones into virtual reality headsets using a lattice of plastic, Velcro, and compressed paper. It also made enhancements to Android to let the operating system support VR-friendly content, like 360 degree videos.
Meanwhile, rivals like Facebook Inc. and companies such as HTC and Samsung Electronics produced their own high-end standalone devices, betting that better graphics and precision would encourage people to shell out several hundred dollars for their own devices, versus as low as $15 for Cardboard.
With Daydream Google is taking on rivals using a similar strategy to the way it has used Android to compete with Apple in smartphones -- build great software, marry that to cheaper hardware, and then attach it to an ecosystem populated by as many developers as possible.
Daydream's direct integration into Android means Google can piggyback on its vast mobile phone user base to get its own approach to VR in front of millions of people's eyeballs (literally). "You can get started developing for it today," Bavor said.
Daydream headsets will be significantly under-powered compared to high-end devices like Facebook's Oculus and HTC's Vive. But they will also be more accessible, given the high prices and supply constraints of the more sophisticated devices. Today, it's hard to get your hands on a premium VR headset, even if you're willing to drop the $1,500 or so needed for the headset and corresponding computers.
Google didn't discuss any specific pricing, and Cardboard devices have been priced differently by different partners. But Daydream will probably be far cheaper.
Before it's here, it's on the Bloomberg Terminal.
LEARN MORE