Friends and Enemies of Fiscal Stimulus Are Gathering for G-7
by and
Finance ministers, central bankers meet Thursday-Saturday

Canada brings pro-spending message that may please its host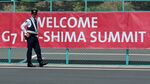 Japan is likely to advocate further fiscal spending to spur growth as Group of Seven finance ministers and central bankers meet in Sendai this week. It can expect a warm response from Canada, where the Trudeau government has embraced deficit spending, and a cool response from Germany, which continues to warn against the risks posed by stimulus.
With unprecedented monetary easing so far unable to pull Japan from its economic funk, pressure is building for more spending by the Abe administration, even as government debt swells. With a record 96.7 trillion yen ($885 billion) budget already in place for this fiscal year, parliament on Tuesday approved a 778 billion yen of relief funding to shore up southern regions struck by earthquakes in April, and speculation is rising that the prime minister will announce a much bigger supplementary spending package over the coming months to support the nation at large.
This would be consistent with the message that emerged from Group of 20 meetings earlier this year, when financial chiefs acknowledged the need for governments to shoulder more of the burden carried by central banks.
Canada has led the way and Finance Minister Bill Morneau will arrive in Sendai after unveiling stimulus plans that will see the government run deficits totaling almost C$120 billion ($93 billion) over six years. Germany's opposition is well known, any significant change from the U.S. would be difficult given the presidential election campaign, and the U.K. remains preoccupied by the looming vote on whether to leave the European Union.
"A big breakthrough is unlikely from this meeting," said Frederic Neumann, co-head of Asian economic research at HSBC Holdings Plc in Hong Kong. "The global economy desperately needs a captain to steer it out of rough seas but no one is taking charge.

Canada's shift under Prime Minister Justin Trudeau was eased by the nation's relatively small debt load. It earned praise from the country's central bank and International Monetary Fund Managing Director Christine Lagarde. Trudeau routinely places a caveat on Canada's prescription for growth: that it only works for countries that can afford to spend more.
Common ground is most likely to be found in areas like green infrastructure spending, specifically linked to cutting pollution emissions, according to John Kirton, a professor and director of the University of Toronto's G-7 research group.
"The general norm of G-7 decision making is that if only one country is opposed, the dynamic of consensus is they tend to give in and lose, but if there's two opposed, you get a stalemate," said Kirton.

The gathering in Sendai, in the northeastern part of Japan hit by the 2011 earthquake and tsunami, stretches from Thursday evening to Saturday. The formal agenda covers risks to the international economy, global financial architecture, sustainable and inclusive development and cross-border financial flows.
Discussions will take place against the backdrop of potential shocks ranging from instability in Greece and Venezuela to China's economic slowdown and the prospect of Brexit, a U.K. pullout from the EU.
Left off the official discussion list is one of the most pressing concerns for Japan: how to counter a 10 percent surge in the yen that's squeezing an economy unable to escape a cycle of expansion and contraction. Cries for sympathy are likely to fall on deaf ears, given the tailwind corporate Japan got in the first years of Prime Minister Shinzo Abe's government from the currency's sharp depreciation.
"The G-7 usually works well when interests are aligned, like after 2008 financial crisis," said HSBC's Neumann. "Currently, interests among the G-7 are misaligned. They are not looking eye to eye when it comes to policy coordination."
Before it's here, it's on the Bloomberg Terminal.
LEARN MORE