Finland Hopeful Calls for 'Courageous' Economic Policy
by
Orpo says government must use legislative power for reforms

Says Finland will need more measures after labor pact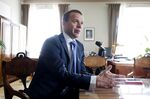 The center piece of the Finnish government's efforts to revive economic growth will fall short of its objective, says the man being tipped as its next finance minister.
The economy is in an "alarmingly bad" state and the government will need to take more measures even after the so-called labor pact is agreed on to reach the necessary 5 percent reduction in labor costs, said Interior Minister Petteri Orpo, 46.
"The government's program is good, but its policies are not courageous," he said in an interview Wednesday in Helsinki. "Whatever happens to the labor pact, it is clear that the government must use its legislative power to push reforms through."
Orpo is challenging Finance Minister Alexander Stubb for the presidency of the National Coalition at a party conference due to start on June 10. A win would give him a good case for taking over as finance minister, a post that's usually reserved for the leader of the junior party in the ruling coalition.
The government of Prime Minister Juha Sipila has been trying to get labor unions to agree to a 5 percent cut in labor costs to reignite competitiveness. Finland's economy is slowly reviving after three years of recession, triggered by the demise of Nokia Oyj's mobile phone business, a slump in the paper industry and falling trade with neighbor Russia.
The need for "structural reforms" was reinforced Thursday by the central bank, which warned in its latest bulletin that "Finland's economic situation remains difficult."
New Style
Should he win the leadership, Orpo will bring about a significant shift in style, if not in substance, to the way the Finance Ministry is run.
Unlike Stubb, a serial tweeter and "iron man" triathlon contestant who relishes the media spotlight and often flaunts his international connections, Orpo likes to portray himself as a family man who prefers to listen and explore practical solutions.
He insists Finland will abide by the euro area's strict budgetary rules -- respecting them is "one of the cornerstones of our financial policy," he said -- and defends the government's efforts to improve competitiveness by making the labor market more flexible.
But he takes issue with some of its methods, arguing that trying to push through a "massive" labor pact has prevented it from enacting a series of "smaller steps" that would have helped improve the business environment -- such as cutting red tape.
"The labor pact has tied our hands for 10 months already," he said. "There are many other measures at our disposal with which to influence competitiveness, growth and employment."
Under Stubb's two-year-old leadership, the center-right National Coalition has failed to reclaim top spot in Finnish politics and is now polling at just under 17 percent.
Orpo's objective is to reconquer the middle classes and make the National Coalition Finland's biggest party before the next general election is due, in 2017.
Before he can do that he must ensure that the government's flagship labor pact is finalized "by early summer." And even if the talks do end on schedule -- no easy feat given the differences that continue to divide trade unionists and business representatives -- that will not spell the end of efforts to cure the "new sick man of Europe," as Stubb famously called his country.
"The Finnish economic situation is alarmingly bad and unemployment is too high," Orpo said. "We can't stand still."
Before it's here, it's on the Bloomberg Terminal.
LEARN MORE