Ex-Barclays Trader Says Sushi Wasn't a Bribe to Fix Libor
by
Contogoulas gives evidence in the trial for the first time

He had impression Libor requests a 'regular and normal thing'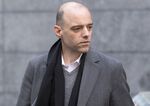 A former Barclays Plc trader on trial for rigging Libor said it was made clear to him that he'd have to help manipulate the benchmark as soon as he joined the bank's swaps desk.
Stylianos Contogoulas told a London jury that his boss, Fred Gourtay, took him to meet the money markets desk and that he was introduced to Libor setter, Peter Johnson.
Contogoulas said "the gist of it was that" he "would be asked to pass on requests to PJ on occasion." Giving evidence for the first time, he said subsequent offers of coffee and sushi to Johnson and underling Jonathan Mathew were just "to show his appreciation" to the team rather than a "bribe."
Prosecutors say that Contogoulas, 44, and four of his colleagues conspired to rig the London interbank offered rate, a benchmark tied to trillions of dollars in securities and loans.
'Thank You'
"You were rubbing them up the right way, weren't you?" Emma Deacon, a prosecution lawyer, said Wednesday. "It wasn't 'thank you' for the sake of it, it was 'thank you' so they would carry on doing what you wanted."
Contogoulas replied: "I was just doing my job and saying thank you."
Contogoulas said Gourtay, who is named as a co-conspirator on the indictment, did nothing to suggest that what he was doing was suspicious or secret.
Johnson pleaded guilty to manipulating the benchmark rate in October 2014. Gourtay isn't on trial and hasn't been charged with a crime.
"He gave me the impression it was a regular and normal thing," Contogoulas said, referring to Gourtay.
John Ryder, Contogoulas's lawyer, asked his client if he ever sought to conceal what he was doing.
"I did not," Greece-born Contogoulas said. He said that he never knew the requests to fix Libor were dishonest or wrong. 
Contogoulas joined Barclays in 2002 on the sterling desk before moving to the dollar swaps desk over two years later. He joined Merrill Lynch in 2006.
Contogoulas, Mathew, 35, Jay Merchant, 45, Alex Pabon, 37, and Ryan Reich, 34, all deny conspiracy to defraud charges dating from June 1, 2005 to Aug. 31, 2007.
Junior Trader
"There was no monetary advantage," to passing on requests to fix the rate at a certain level, said Contogoulas, who described himself as a junior trader. "As far as I was concerned it was part of my job, a very small part of my job but I still had to do it."
Prosecutors said at the start of the trial that in e-mails Contogoulas extended an open invitation to a bar on a Greek island and offered a glowing mention in his memoirs in exchange for help keeping Libor where he wanted it. 
The ex-trader dismissed the messages as "banter" and "joking."
"He didn't have to listen to me," he said referring to Johnson. "He was very senior, I was very junior." Contogoulas earned 140,000 pounds ($203,700) in 2005 and 65,000 pounds in 2006 before he left the bank.
Honesty and integrity
Contogoulas said that honesty and integrity were extremely important to his personal and professional life. During the indictment period he raised concerns over Gourtay with senior bosses.
He told Harry Harrison, now head of non-core assets at Barclays, that he thought Gourtay was attempting to hide $15 million to $20 million in losses by mis-marking his trading book, Contogoulas told the jury Wednesday.
"You are alleged to have been involved in a criminal conspiracy with Fred Gourtay at that time," Ryder said. "Did you have any concerns about raising with your senior manager Fred Gourtay's dishonesty when you were behaving dishonestly with him?"
"I had no concerns, no," Contogoulas. He denied he ever acted dishonestly in making the requests to the money markets desk. Gourtay was later fired for his losses, according to Ryder.
Before it's here, it's on the Bloomberg Terminal.
LEARN MORE