Duterte Tells Obama He Backs U.S. China Sea Stance for Now: GMA
by
Duterte has in the past expressed skeptcism about U.S alliance

Has said Philippines better off making friends with China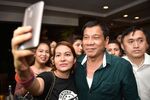 Incoming Philippine President Rodrigo Duterte told U.S. President Barack Obama he supports his country's alliance with the U.S., while warning he may break ranks with Washington and enter bilateral talks with China to resolve a territorial dispute in the South China Sea, GMA News Online reported.
Duterte told Obama in a phone call that "we are allied with the Western World on China Sea," but that he might opt to engage in bilateral talks "if there is no wind to move the sail," GMA reported.
During the campaign Duterte raised doubts about his own commitment to the U.S. alliance, which was strengthened under outgoing President Benigno Aquino, who also sought international arbitration over China's construction of outposts in the South China Sea in areas claimed by the Philippines. That process is backed by the U.S., and the arbitration panel is due to rule in the coming months. Obama urged Duterte not to engage China before that decision, GMA reported.
Duterte was doing a television interview with GMA when Obama called to congratulate him on his victory in the May 9 election and related his conversation to the GMA journalist after the call, GMA said. The White House confirmed that Obama called Duterte to congratulate him on the election.
The conversation with Obama came after Duterte this week reiterated his concerns over the U.S. commitment to the Philippines in case of a conflict with China.
"I'm asking point blank America, are you with us? Or are you not with us? If we go to war, will you be at my back to support me? Or would you tell me to go to war on your own?" he told journalists at a briefing that began late Sunday night.
Last year Duterte said that America would never go to war over the South China Sea on behalf of the Philippines. "America is afraid to go to war," Duterte said in an interview last year with Rappler, a Philippine news website. "We're better off making friends with China."
At the same briefing, Duterte said that he was not going "soft" on China and he would not relent in asserting the Philippine's territorial claims in the South China Sea.
Before it's here, it's on the Bloomberg Terminal.
LEARN MORE