CIMB Clears Chairman of Wrongdoing Over Malaysia Political Funds
by
Nazir helped distribute money to politicians in 2013

He took leave from role as CIMB Group chairman during review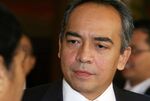 CIMB Group Holdings Bhd. cleared Chairman Nazir Razak of misusing his position or the bank's resources when he helped his brother -- Malaysia's prime minister -- distribute funds to politicians before elections three years ago.
Nazir will resume his post at CIMB Group and as a director of CIMB Bank from Thursday after taking a monthlong leave of absence, according to a stock exchange filing. The boards of the two companies appointed Ernst & Young to conduct an audit into Nazir's activities and sought independent legal advice, they said.
The Wall Street Journal reported in March that Nazir received about $7 million from his brother Najib Razak's accounts ahead of elections in 2013, and passed the money to politicians in the ruling party. Nazir told the paper the money that entered his account was distributed in accordance with instructions from party leaders, and he believed it came from donations he helped solicit from Malaysian companies and individuals.
The audit found Nazir "did not misuse his position as the Group Chief Executive at that time nor was there any inappropriate use of the bank's resources," CIMB said in the statement. He was Group CEO of the lender from November 2006 to August 2014, according to its website.
"However, the detailed examinations conducted during the review identified some process shortcomings, and the boards have instructed the management to put in place plans for immediate improvements as well as strengthened internal rules and processes to avoid re-occurrences moving forward."
Najib is facing his biggest political crisis since coming to power seven years ago amid questions over $681 million that appeared in his accounts before the 2013 election, which the ruling coalition, in power since 1957, won with its slimmest margin yet. Attorney General Mohamed Apandi Ali said the money was a personal donation from the Saudi royal family, and that Najib later returned $620 million.
Before it's here, it's on the Bloomberg Terminal.
LEARN MORE