Chinese VIPs Wooed to Tropical Isles as Macau Tightens Rules
by
HK's Imperial Pacific to invest $7.1 billion on Saipan casinos

Macau banned phone betting amid stricter oversight of gambling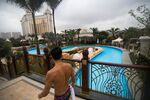 Macau's gaming promoters are betting they can make money bringing high rollers to casinos in Southeast Asia and other tropical destinations as increased government control crimps casino revenue in the world's biggest gambling center.
Imperial Pacific International Holdings Ltd.'s said it will invest $7.1 billion through 2020 to expand its casino presence on the island of Saipan in the western Pacific Ocean and will debut a permanent casino there early next year. Melco International Development Ltd. is exploring a casino business in Vietnam, said Andy Choy, the company's chief gaming officer on the sidelines of a casino conference in Macau.
"Junkets are diversifying from Macau," said Shen Yan, Hong Kong-based Imperial's president of global capital markets. "The junket business in Macau has been really difficult because of the shrinking margin. It's natural for these people to go abroad and take their customers to locations where clients want to go to and junkets can make money."
Gaming promoters, also known as junkets, were dealt another blow this month when the Macau government banned phone betting, as tightened regulations called for stricter accounting transparency. Macau's $30 billion gaming industry has seen revenue declines for nearly two years amid China's slowing economy and anti-corruption campaign.
Junket Law

Imperial Pacific shares dropped 2 percent at the close in Hong Kong trading Wednesday while Melco International fell 1.5 percent.
Macau plans to raise capital requirements for junkets and is preparing to set up a credit database to help weed out risky gamblers, the government said this month as part of an interim review of the gaming industry. Macau's VIP revenue, as measured by their favorite baccarat card game, was worth $16 billion last year, after plunging by 40 percent from 2014.
The middlemen, who loan money to high-end clients to gamble, have quickly moved business to countries such as the Philippines and Vietnam where phone betting is allowed after Macau's sudden ban, said Tony Tong, vice chairman of the Macau Gaming Information Association. Operators are looking abroad for destinations with stable governments and favorable tax structures and policies for gaming, Tong said at a gaming conference in Macau Tuesday.
Imperial Pacific's temporary casino on Saipan, which opened last November, has delivered better-than-expected revenue, according to Yan. A junket law has been approved on the island earlier this year, and he expects gaming promoters will bring more big gamblers to the tropical island.

Saipan Casino
The company is in talks with a number of Chinese property developers interested in investing in the Saipan project expansion, Yan said. Imperial Pacific will announce which developer it will take on as a strategic investor in the third quarter, he said. The developer will build one to two hotels for the Saipan project early next year, according to Yan.
Meanwhile, Melco International, the biggest shareholder of Macau-based casino operator Melco Crown Entertainment Ltd., is looking at Vietnam and other destinations for its expansion, said Choy. Melco Crown already operates a casino resort in the Philippines.
Junket promoters such as Suncity Group and Jimei International Entertainment Group Ltd. are now attracting Chinese high rollers to the gaming tables and crystal blue waters of Vietnam, Cambodia and other Southeast Asian gaming attractions. The fun tourist activities, along with gambling, have become a draw for VIP gamblers, said Tong.
"Many leading junkets in Macau are looking for ways that they can make money by capitalizing on their existing customer base," Tong said.
Before it's here, it's on the Bloomberg Terminal.
LEARN MORE