China Leader Tells Hong Kong: Seek Integration, Not Independence
by and
Communists' No. 3 tells city rocking boat will bring no good

Zhang Dejiang urges deeper ties with mainland economy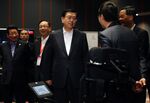 China's top official for Hong Kong urged the city to prosper by embracing greater economic integration and rejecting the more radical independence movement that has taken root in the wake of pro-democracy protests in 2014.
Zhang Dejiang -- the Communist Party's No. 3 official and the most senior leader to visit Hong Kong in four years -- made his remarks Wednesday at a banquet attended by top city officials and business leaders. Zhang denounced efforts by some pro-democracy advocates who call themselves "localists" to seek greater autonomy, even independence, from the mainland, in China's highest-level criticism of the movement.
QuickTake Hong Kong's Autonomy
"An extremely small number of people, reject the 'one country,' reject the central government, even call for independence. This is not localism. This is using localism's name to do the deed of separatism," Zhang said at the Hong Kong Convention and Exhibition Centre. "Rocking the boat won't do any good for Hong Kong. It will only let years and months slip by and harm the economy and people's livelihoods."
Hong Kong was on high alert for Zhang's three-day visit, after the 2014 protests that shut down key business districts for months and a February riot involving a localist group that injured more than 90 police officers. The city has deployed as many as 6,000 police officers for each day of the trip that ends Thursday and established a broad security cordon to keep protesters more than a block from the convention center.
Outside the venue, pro-democracy demonstrators, waved flags and banners reading, "Put an end to one-party dictatorship" and "Build a democratic China!" and tested security barriers in mostly peaceful protests.
Carrot, Stick
In his public remarks, Zhang said China wanted Hong Kong to become a financing hub for President Xi Jinping's "One Belt, One Road" program, which aims to build a loose network of roads, railways, pipelines and ports from Asia to Europe. That includes providing legal services, facilitating capital flows and promoting the Chinese yuan's internationalization along the route.
While he addressed the nascent independence movement, Zhang's public speeches made no mention of next year's chief executive election, which was the sticking point of the 2014 Occupy protests. He didn't discuss the mainland's detention late last year of five Hong Kong booksellers who sold works critical of the Communist Party, although he reiterated the government's commitment to the "one country, two systems" framework that guarantees the city's autonomy.
"He is using both stick and carrot, reminding Hong Kong, 'There is a lot of money to be made, as long as you behave yourself,'" Jean-Pierre Cabestan, director of government and international studies at Hong Kong Baptist University. "This is reminding Hong Kong who is the boss. He didn't mention the booksellers, no political reforms, no concession."
Meeting Democrats
How much support there is for independence in Hong Kong is unclear. One localist candidate got more than 66,000 votes in an election to the legislature in February and several others have vowed to seek Legislative Council seats in key September elections.
In a conciliatory gesture, Zhang met a group of moderate democratic lawmakers before Wednesday's banquet. Democratic Party Chairwoman Emily Lau said she used the meeting to criticize Hong Kong Chief Executive Leung Chun-ying and urge Beijing to revisit its stance on requiring a nomination panel packed with loyalists to screen candidates for the city's top office.
"I told him that Hong Kong people are very unhappy because of the poor governance and because Beijing refused to allow us to have Democratic elections," Lau said. "I wanted to impress upon him the urgency of the matter, and for the reaction he gave some standard replies."
Before it's here, it's on the Bloomberg Terminal.
LEARN MORE