China Home Price Gains Spread as Smaller Cities Advance
Bloomberg News
New-home prices climbed in 65 cities in April, 62 in March

Hefei, Xiamen among cities outpacing Shanghai, Beijing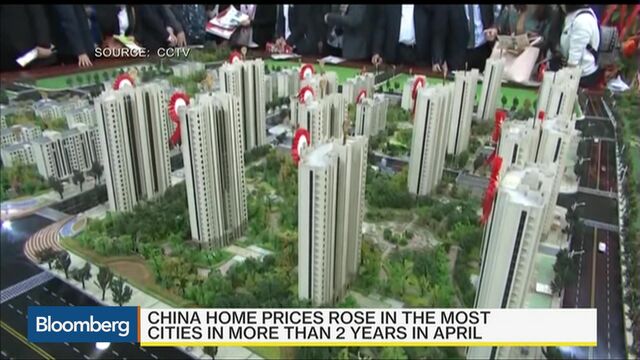 Home prices rose in the most Chinese cities in more than two years in April, with gains in second-tier cities surpassing advances in larger hubs.
New-home prices excluding government-subsidized housing climbed in 65 cities, compared with 62 in March, among the 70 cities tracked by the government, the National Bureau of Statistics said Wednesday. That's the most cities since December 2013. Prices dropped in five cities in April, compared with eight a month earlier.
The latest figures signal that the government is gaining traction in its efforts to clear a glut of unsold homes in smaller cities while encouraging curbs in top economic hubs including Shanghai and Shenzhen, where prices have surged rapidly amid stimulus measures and lower interest rates. Nomura Holdings Inc. economist Zhao Yang said that the growth in home prices in first-tier cities will slow further as the government winds back some of the liquidity, creating a spillover effect to other regions.
"The current housing rebound is a consequence of accumulated credit loosening since the middle of last year, which makes it unsustainable," Zhao, the Hong Kong-based chief China economist at Nomura, said in an interview. "Now that the credit policy shows signs of moderating, a correction in housing sales and prices could loom faster than everyone expects."
Hefei Leads
The gains were led by the Anhui province city of Hefei, where prices rose 5.7 percent, Xiamen and Nanjing, according to the official data.
Prices rose 3.1 percent in Shanghai, a slower pace than in March, and 2.3 percent in the southern business hub of Shenzhen, the smallest gain in six months. They rose 2.7 percent in Beijing and 2.4 percent in Guangzhou.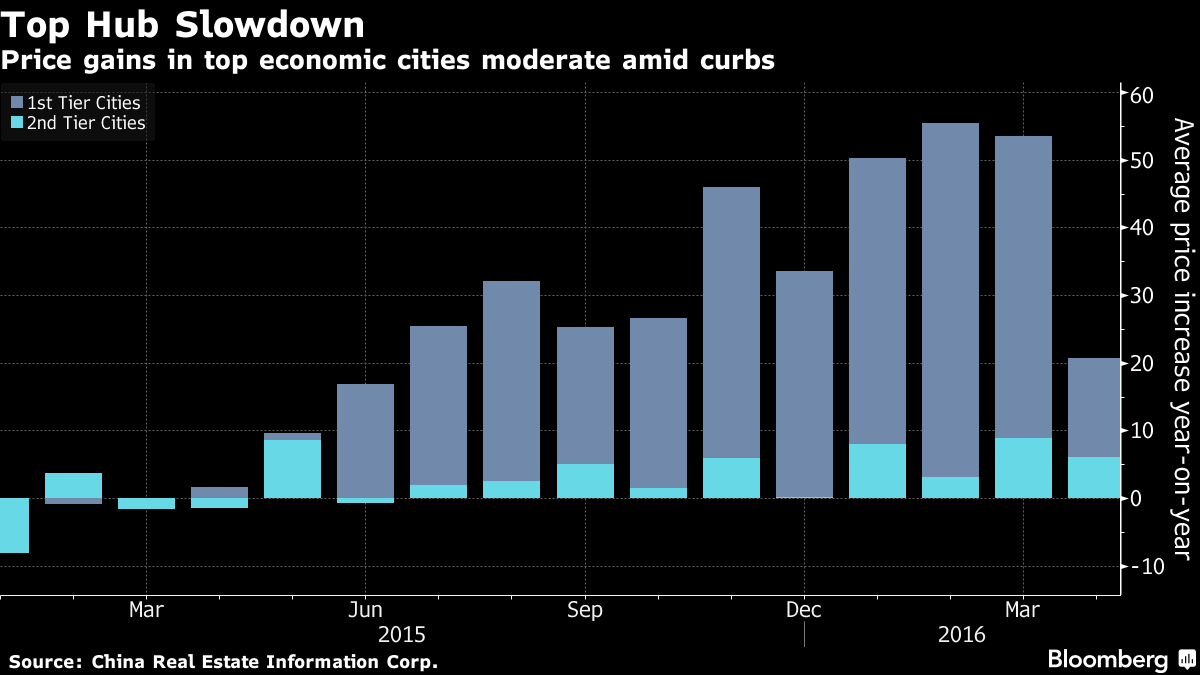 Real estate investments expand 9.7 percent last month from a year earlier, the fastest pace since at least 2015, according to data compiled by Bloomberg from figures released Saturday. Investment in "non-key regions," which the statistics bureau views as less economically important, surpassed 40 "key cities" for the first time in 20 months, the bureau said.
New home sales soared 63.5 percent to 793.7 billion yuan ($122 billion) in April from a year earlier, driving a rebound in real estate investments from the lowest level in 14 years.
The average new-home price rose 1.03 percent in April from a month earlier, the fastest pace in six years, according to Bloomberg calculations based on government data.
Slower Expansion
Still, increases may slow as the credit expansion that has helped fuel the rebound in the property market is moderating. The nation's banks extended new loans of 555.6 billion yuan in April, down from the median forecast of 800 billion yuan in a Bloomberg survey. Medium- and long-term bank loans to households, mostly residential mortgage loans, slightly dipped to 428 billion yuan last month from 439.7 billion yuan in March, according to the latest available data from the People's Bank of China.
"The property market is still gaining steam, but we really doubt the sustainability of the current rally," Zhou Hao, an economist at Commerzbank AG in Singapore, said before Wednesday's figures. "The slowing credit growth points to a downside risk to property sales in the coming months."
Existing-home prices increased in 51 cities in April from the previous month, compared to 54 in March. They declined in 10 cities and were unchanged in nine.
Prices in April gained in 71 cities among the 100 tracked by SouFun Holdings Ltd., the owner of China's biggest property website, compared with gains in 60 the previous month. Average new-home prices rose 1.45 percent, a slower pace than the 1.9 percent gain in March.
Watch next: China Home Price Gains Spread to More Cities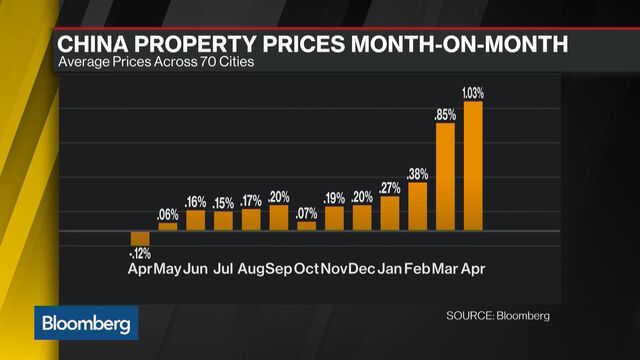 — With assistance by Emma Dong
Before it's here, it's on the Bloomberg Terminal.
LEARN MORE