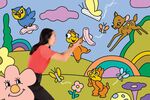 Diana Sierra was in Ruhiira, Uganda, in 2011, coaching entrepreneurs on product design, when a local teacher told her something startling: Many of the teacher's female students skipped school during their period because they lacked adequate feminine-hygiene products. Sierra, who's designed everything from pacifiers to perfume bottles, saw a humanitarian and design imperative: How could she give impoverished women a high-quality, attractive feminine-hygiene product on par with what's available to women in the developed world? Her solution: the EmpowerPanty, a pair of lacy, colorful "period underwear" with a removable, quick-drying pad. Preorders ship soon; for each one bought in the U.S., she'll donate another to a woman in need. "If you want to create gender equality," says Sierra, 36, whose company, Be Girl, has been empowered with $1 million in venture capital, "you have to start creating equality within gender."
The EmpowerPanty sounds revolutionary, but it's not. It's only part of an uprising, one that's been cheered in style pages and promoted by the more than a dozen companies that have—there's really only one word to describe it—flooded the feminine-hygiene market since 2012, all eager to help women deal with that time of the month. Surely you've seen the ads for period panties, organic tampons, and monthly subscription services that mail hygiene products to your door with soothing treats such as tea and chocolate. It's not like there wasn't a need: Packaged-goods conglomerates have barely changed their wares in decades, and their messaging, with perky, smiling women in white pants, is silly and condescending.
Almost all the new startups stress that they're not just helping women in the First World; they're on a social mission, and they want you to join in! Like Be Girl, period-underwear company Thinx and organic tampon companies Cora and Conscious Period employ a version of the "one-for-one" model. Thinx donates money to Afripads, which helps Ugandan women manufacture and sell locally made sanitary pads; Dear Kate, another period-underwear startup, gives money to fund science, technology, engineering, and math education for girls; Jessica Alba's Honest donates sanitary supplies to homeless women in Africa.

The sheer number of these businesses makes it hard for any one to stand out, particularly as they've adopted a similar marketing approach: rebrand menstruation as a symbol of strength, an opportunity for women to demonstrate—with their dollars, of course—a commitment to female empowerment. The companies' founders are almost exclusively thirtysomething women whose backgrounds in engineering, business, and design have inspired them to upend not just how women deal with their period but how they feel about it. And, to a woman, they insist their social missions aren't just unique but authentic—and that the competition's are bogus. Thinx Chief Executive Officer Miki Agrawal, for example, rejects any relationship between my-period-is-holier-than-thine messaging and Thinx's own marketing strategy. "It's very clear and obvious when something is for marketing and when something is real," she says. Of her competitors, she says: "We have a giveback mission that [they] don't have. We launched our company with our giveback mission entwined with our business." Cora, Conscious Period, Honest, and others did the same. Be Girl's Sierra says, "We're the only true one-for-one" charitable giving model.
Quibbles aside, the companies' attempts to out-empower one another raise a moral quandary: How authentic is your mission if you're trying to sell stuff? Social justice tends to be a winner among female consumers, especially millennials. According to a 2015 study from Cone Communications on millennial attitudes toward corporate social responsibility, 87 percent of women age 18 to 34 say it's a key factor in purchasing decisions, and 75 percent say they're willing to spend more on a socially or environmentally responsible product. Fully 90 percent say they expect companies to actively address societal problems. Marketing a brand's social impact can "absolutely be used for good," says John Trybus, deputy director at the Center for Social Impact Communication at Georgetown University. "But if you're playing with people's emotions, that can be a dangerous thing." It's possible the SoulCycle crowd is making "empowering" purchases under duress—who wants to be the woman who looks like she doesn't care what a woman in Uganda is going through?

Feminine hygiene is a $15 billion global market, with about a quarter of sales in the U.S., according to market research firm Technavio. The industry leaders are household names: Procter & Gamble (makers of the Tampax and Always brands, which account for about a third of the domestic market), Johnson & Johnson (Carefree), and Kimberly-Clark (Kotex). In the world of traditional menstrual marketing, women on their period frolic in sun-dappled fields with long-haired nymphs and yoginis, and everyone dresses in unblemished white. "Flowers and prancing and petals don't resonate with today's girl," Agrawal says. Periods, she says, are about "the feeling of cramps and managing something that's messy."
Before starting Thinx, Agrawal had no experience with the feminine-hygiene market. A restaurateur and author, she came up with the idea at a family reunion, when Aunt Flo inauspiciously visited her sister in the middle of a three-legged race. Thinx's tag line, "Period Panties for Modern Women," is very much in contrast with the big brands' make-believe Period Utopia—and very much in keeping with its nouveau period peers. Thinx's ads go for a high-end art vibe, with spare photography and a muted tan and mauve palette. The models are detached—not despairing, but they certainly don't look enthusiastic about menstruation. Be Girl's marketing is brighter and more energetic, presumably because the women in its ads are excited about doing good in the world. Its models wear big smiles and strike power poses under the tag line "Premium undies for you, life changing impact for girls." Dear Kate ("Performance underwear for high performing women"), which introduced the first period panty in 2012, has featured tech execs wearing its undies. Regardless of the brand, the message is clear: Periods, like the women who get them, are powerful, and these products help you harness that power. More harnessing, more market share.
If only it were that easy. In addition to competing against one another, they must confront the behemoths—and Honest, Alba's billion-dollar organic household-product enterprise, which began offering feminine care last year. And in that face-off, cost is a serious consideration. A standard box of 40 Tampax tampons costs $5.49 at Target; half as many organic tampons from Conscious Period, which hit the market last fall after a $40,000 Indiegogo campaign, cost $8.50. Some period underwear is considerably more expensive than basic lingerie—one pair of Thinx goes for $24 to $38. The businesses argue you save money by not having to toss out stained panties or go through lots of disposable products.

Even consumers who can afford higher-end, eco-friendly alternatives can be overwhelmed by choice. There are now five period-panty companies on the market, including Be Girl, Thinx, and Dear Kate, each of which claims to absorb a different amount of blood. Choosing organic tampons is an even murkier process, especially when their makers—Cora and Lola and Conscious and Honest—sound so similar. This is precisely why so many startups are trying to rebrand the period as a vehicle for empowerment. In a suddenly crowded market, "you don't want to compete on price, so you differentiate on psychological value," says Alexander Chernev, a marketing professor at the Kellogg School of Management at Northwestern University. Nothing is more powerful, he says, than "purchasing moral satisfaction."
Does it matter which business is most noble? Not really, and there's something inherently icky about branding a natural biological process that actually has nothing to do with self-expression as a capital-F Feminist movement. Many of these companies cite Toms Shoes, the shoemaker that pioneered the buy-one-give-one model, as their inspiration. Toms advised Be Girl during its development phase at the Halcyon social entrepreneurship incubator in Washington, and one of Conscious Period's co-founders previously worked in Toms's marketing department. But the social mission at Toms is an easy way to feel good about an unnecessary purchase; period companies, on the other hand, are selling a product women need, which can make the giving mission seem less like a perk than an obligation. "When we get our period, we're reminded that impoverished women get their period, too, so we should feel guilty," says Jenny Darroch, a marketing professor at the Drucker School of Management at Claremont Graduate University.
Georgetown's Trybus says most of the startups likely "have their brains and hearts in the right place," despite their righteousness. "It's really exciting for us to see other companies coming to this market," says Annie Lascoe, Conscious Period's co-founder. "It validates the need for change within this industry." It also validates the intelligence of female shoppers, who should be able to make purchasing decisions without feeling talked down to, insulted, or shamed when their experiences run counter to life in Period Utopia. That's progress for womankind. "From the woman who grew up on the Upper East Side to the woman from the slum in Mumbai, we can all relate to the experience of being caught off guard without a tampon or a pad when we needed it," Lascoe says. "It's a shared universal experience. I used a sock once."
Before it's here, it's on the Bloomberg Terminal.
LEARN MORE