1MDB Board's Departure to Pave Way for Financing, Minister Says
Elffie Chew
Real estate projects can't get loans: Deputy Finance Minister

Issue will be resolved once MOF takes over helm: Johari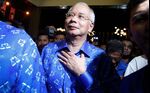 The departure of 1Malaysia Development Bhd.'s board of directors later this month and the appointment of officials from the Ministry of Finance in their place will alleviate financing problems faced by the state-owned investment company and its partners on real estate projects, the deputy finance minister said.
"The financing issues should be resolved" when the Ministry of Finance takes over the helm of 1MDB, Deputy Finance Minister Johari Abdul Ghani said in a phone interview Wednesday. "The partners are strong on their own but they can't get the project financing because the banks don't see 1MDB as an acceptable partner."
1MDB, whose advisory's board has been headed by Prime Minister Najib Razak, remains at the center of multiple global probes related to allegations of money laundering and embezzlement. The Malaysian government said this month it will dissolve the advisory group as it accepted the resignation of its board of directors, who will leave May 31. The company and the premier have consistently denied wrongdoing.
Two Projects
The financing difficulties revolves around two projects: a retail, residential and hotel development in the 70-acre Tun Razak Exchange financial district in Kuala Lumpur, and Bandar Malaysia Sdn., the minister said. Johari doesn't expect delays as ongoing work are funded by the equity portions of the respective joint ventures, he said.
The joint venture in Tun Razak Exchange was set up in March 2015 with Australia's Lend Lease Group, which has a 60 percent stake. 1MDB is also selling 60 percent of Bandar, which has a gross development value of 150 billion ringgit ($37 billion), to a group including Iskandar Waterfront Holdings Sdn. for 7.41 billion ringgit.
Officials from Lend Lease in Kuala Lumpur and Iskandar Waterfront couldn't be immediately reached for comments, while 1MDB said in an e-mailed response to queries that "we have nothing further to add."
1MDB's financing issues also stemmed from missing interest payments on two bonds in the past month amid dispute with Abu Dhabi's sovereign wealth fund. International Petroleum Investment Co. and 1MDB have been locked in a tussle that led to the default by the Malaysian company in April on a $50 million coupon payment on its 5.75 percent bonds and $52.4 million of interest due on a separate 5.99 1MDB percent notes.
While IPIC paid the interest on both the 1MDB bonds that it co-guaranteed, the missed payment hit the reputation of the Malaysian government, which is 1MDB's sole shareholder. IPIC reiterated in a May 11 stock exchange filing in London that it's asking 1MDB and Malaysia for reimbursement of $1.2 billion plus accrued interest. 1MDB has said it has "more than sufficient funds" to make the payments.
Before it's here, it's on the Bloomberg Terminal.
LEARN MORE