World Powers Want to Arm Libya's Government. Who Gets the Guns?
Gregory Viscusi
Embargo would stay but Sarraj could apply for exemptions

Analysts see weeks before unity government could qualify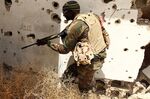 Top officials from 21 countries and four major international organizations want Libya's fledgling unity government to receive weapons to fight Islamic State militants dug in along Mediterranean shores.