World Powers Want to Arm Libya's Government. Who Gets the Guns?
Gregory Viscusi
Embargo would stay but Sarraj could apply for exemptions

Analysts see weeks before unity government could qualify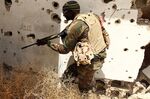 Top officials from 21 countries and four major international organizations want Libya's fledgling unity government to receive weapons to fight Islamic State militants dug in along Mediterranean shores. 
The U.S., Russia, European powers, as well as Libya's neighbors, are attempting to build the first stable government since NATO countries intervened in 2011 to oust Muammar Qaddafi. Here's a guide to how decisions made at diplomatic meetings this week in Vienna could change Libya's direction.
Who governs Libya?
Well, no one. Or at least not anywhere near the whole country. Elections in 2014 were disputed, leading to a government in Tripoli that refused to cede power and an internationally recognized parliament that decamped to the eastern city of Tobruk.
The United Nations brokered a deal in December to create a unity administration headed by Fayez al-Sarraj, who has been in Tripoli since March. While Sarraj has steadily built support, and on Tuesday ordered key ministries to begin work, dissidents in the capital and the east have prevented the creation of a new government with full powers.
Adding further complexity, Islamic State controls territory around the central coastal town of Sirte, while General Khalifa Haftar, a self-proclaimed savior of Libya whose Libyan National Army militia has been attacking Islamist militants, leads the country's most effective fighting force.
Libya has between 10 and 12 major militias vying for territory, power and influence, said Mattia Toaldo, a Libya analyst at the European Council on Foreign Relations in London. Hundreds of smaller ones also hold territory, some as little as a few streets in a city.
Who would receive the weapons, and how soon?

Libya has been under a UN arms embargo since 2011, with the latest modifications approved by the Security Council two years ago. Monday's meeting in Vienna won't lift the sanctions but allows Sarraj to apply for exemptions "to procure necessary lethal arms and material to counter UN-designated terrorist groups."
The meeting called for a joint command structure to combine military forces of the Tripoli and Tobruk administrations. According to Toaldo, that would take months but "something that could satisfy the Security Council could be ready in a few weeks." Sarraj said he would supply the UN with a list of needed weapons "as soon as possible."
Why is the international community so concerned?

Libya hosts Islamic State's most successful franchise outside its Syrian and Iraqi bases. Terrorists based in Libya carried out deadly attacks in Tunisia and tried to occupy a border town in early March, only being repelled after intense fighting. There are between 3,000 and 6,500 Islamic State fighters in Libya, according to the Jamestown Foundation, mostly from existing militias that declared their allegiance, but also foreign fighters.
"Islamic State doesn't hold large amounts of Libyan territory" but uses the areas it does hold to support affiliates in Sinai, Yemen and Somalia, Hans-Jacob Schindler, an expert with the UN's sanctions monitoring team, said by phone from New York.
Libya's shores were once the main embarking point for migrants seeking refuge in Europe, with thousands a year dying before reaching Sicily. Later an alternative route through Turkey dominated. But with a Turkey-European Union curbing refugee movements, traffickers could attempt to revive the shipping of desperate families from Libyan soil.
Libya has Africa's largest proven crude reserves. Competing factions of Libya's state-run National Oil Corp. have agreed to resume exports from the Hariga port to revive the OPEC member's production.
What chance unity?
Haftar has been the main figure standing in the way of a unity government but that could change, says Umberto Profazio, an adviser at Rome-based Institute for International Affairs. "Haftar is very popular among those with a nostalgia for a strongman," he said. "But if he was offered a major job in a new government, such as head of the army or an important ministry, he could accept."
Sarraj's government has created a presidential guard that could receive weapons, he said. And Sarraj went to Egypt and appears to have won the backing of President Abdel-Fattah El-Sisi, who in the past supported Haftar.
"The risk of course is that the weapons aren't used solely against Islamic State, but to settle scores among competing factions. Plus there's the question of whether one should send weapons to a country that has plenty of them," Profazio said.
Did foreign military intervention cease in 2011?
Not at all. Pentagon spokesman Peter Cook said on Monday that "small teams of U.S. forces" are in Libya to gather intelligence about Islamic State. France, Britain and Italy also have special forces or intelligence officers in country, according to reports in those countries. U.S. warplanes in February bombed an IS training camp, and in November attacked another militant group.
White House press secretary Josh Earnest said the U.S. "won't hesitate" to carry out further airstrikes. But he said that's "not a substitute" to building up the fighting capacities of the Government of National Accord.
In January, Italy and the U.S. agreed to allow American drones to fly from Sigonella military base in Sicily. France has troops in Niger, Mali and Chad, in part to prevent incursions from militants based in southern Libya. Italian Foreign Minister Paolo Gentiloni Monday ruled out putting "boots on the ground" in Libya. Egypt and the United Arab Emirates, meanwhile, have been providing military support for Haftar.