Venezuela Offers Discounted Oil in Battle for U.S. Refineries
by
U.S. was top buyer of Venezuelan crude from Jose port in April

Venezuelan basket now more than $12 a barrel below WTI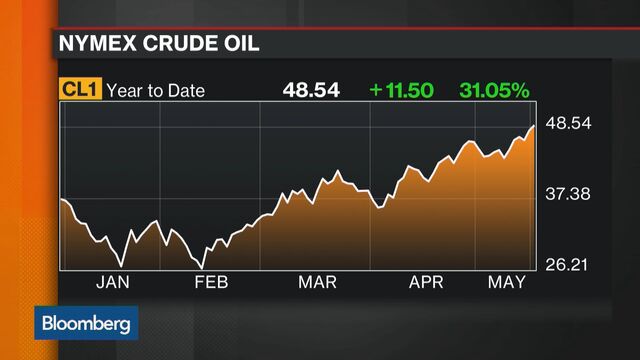 Venezuela is offering oil at the biggest discounts in seven years as the third-largest supplier to U.S. refineries fights to defend its market share from Canadian and Middle Eastern grades.
The basket of Venezuelan oil is now more than $12 a barrel cheaper than the benchmark West Texas Intermediate and has averaged a discount of $8.44 this year. The average was $3.73 in 2014 and $3.78 in 2015.

The OPEC member has been reducing prices even as domestic production slows. Output is expected to drop 4.4 percent this year to just under 2.3 million barrels a day as cash-strapped state oil company Petroleos de Venezuela SA continues to cut investments, consultant BMI Research said.
"When production and exports are on the decline, it probably makes more sense for Latin American producers to reduce exports to Asia, where heavy crude volumes from Iran and Iraq are on the rise, rather than lose market share next door," Singapore-based analyst Virendra Chauhan with Energy Aspects Ltd. said by e-mail.
In 2015, Venezuela passed Mexico to become the third-largest oil supplier to U.S. refineries, behind Canada and Saudi Arabia, according to data compiled by Bloomberg oil-market specialist Bert Gilbert. Imports from Venezuela rose 8.9 percent to 783,519 barrels a day last year, while shipments from Mexico declined 13 percent.
Rising Exports
Crude exports out of the main port of Jose, which ships 70 percent of the country's oil, increased in April amid planned and unplanned outages at the PDVSA refineries, including the El Palito refinery, which will be down for 60 days starting mid-April. Less oil processed by the domestic refineries meant more for exports. April shipments from Jose increased by 21 percent over March, according to data compiled by Bloomberg.
In the long run, overseas shipments are expected to drop, said Mara Roberts, a BMI Research analyst based in New York. Because of power failures, falling domestic supplies and deteriorating infrastructure, she estimates that exports will drop again in 2016 after last year's 5 percent decline.
Before it's here, it's on the Bloomberg Terminal.
LEARN MORE