U.S. Corporates' Biggest Advantage Over Europe Is Poised to Snap
Cost cutting to drive margin improvement, says Barclays.
by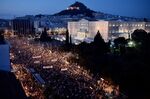 American businesses haven't had it this good over their European counterparts in more than four decades.

That's no reason to get complacent, according to strategists at Barclays Plc., who scrutinized the earnings of U.S. and European firms to demonstrate that sheer profitability, rather than a sluggish economic backdrop, is what's been driving the equity markets' relative performance.

Though corporate America's profitability versus that of peers across the Atlantic hasn't been this favorable in 41 years, Barclays reckons investors are missing a trick by betting that the extent of this profitability-advantage will "persist to perpetuity."

The analysis of strategists led by Dennis Jose suggests that European companies are well-positioned to see their margins improve, in stark contrast to American firms:


"Post-crisis, while U.S. companies were able to maintain pricing and aggressively control labor costs, European companies weren't. However things have changed recently," the analysts write. "European companies are stabilizing pricing, and are now aggressively cutting labor costs, suggesting margin expansion. In the U.S. though, the data suggests margin contraction."

If, in the long run, the performance of stocks is dictated by earnings growth, then the recent outperformance of U.S. equities has been helped by the fact that publicly traded firms in the U.S. have far outperformed their European counterparts since the financial crisis:

"The outperformance of Europe pre-2008, and the underperformance thereafter, can almost completely be explained by the movements in relative earnings," according to Barclays. "Therefore for Europe to outperform hereon, earnings need to improve at a faster pace than the U.S."
In examining the causes of this gap in earnings, the analysts find one surprise: The relatively meager economic growth in Europe doesn't appear to be the prime culprit.
"In local currency terms, European company sales have broadly kept pace with U.S. companies even through this cycle," according to Barclay's research. "To be honest, we find this quite impressive given the sovereign debt crisis-embroiled backdrop European companies have had to endure over the past five years."
Another potential cause of the divergence in earnings-per-share growth could be the extent to which significant stimulus from the Federal Reserve helped to facilitate an acceleration in corporate buybacks stateside. Whether this dynamic will play out in Europe is an open question. Goldman Sachs Group Inc., for one, doubts it.

For Barclays' thesis, it's more relevant that the firming of the U.S. job market and labor shortages highlighted by many S&P 500 companies have weighed on margins, and threaten to become more acute as the baby boomers head into retirement. Meanwhile, labor market reforms have mitigated some of the rigidities that had prevented European firms from cutting costs as aggressively as their American peers in the wake of the crisis, and are poised to bear fruit for their bottom lines going forward.
"Looking ahead, unlike the U.S., the slack in the labor market in the Euro Area remains very high and cost cutting efforts continue to dominate earnings announcements," conclude the analysts. "The catch-up in profit margins remains more driven by unit labor costs than pricing."
The upshot: what's good for European equities doesn't look like great news for the average employee or would-be worker across the Atlantic.
Before it's here, it's on the Bloomberg Terminal.
LEARN MORE