U.K. Banks Face Cap on Overdraft Fees, Regulator Says
by
Regulator issues provisional findings following investigation

Probe was extended after lawmakers called first attempt 'lazy'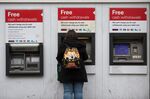 Given a second chance to get tough on banks, the U.K. antitrust regulator outlined a cap on fees on customers who spend more than they have in their checking accounts, a proposal criticized as too little, too late by consumer groups.
The Competition and Markets Authority recommended a cap on overdraft charges and a grace period for customers to avoid charges in its second report on U.K. retail banking in seven months. In 2014, banks received 1.2 billion pounds ($1.7 billion) in revenue from the fees.
The recommendation is an attempt to build on reforms suggested by the CMA in October, when after stopping short of breaking up the banks or ending free checking accounts, lawmakers lambasted the regulator for allowing lenders to "pull the wool over their eyes." Tuesday's recommendation falls short once again, consumer groups and smaller banks said Tuesday.
"After 18 months, this inquiry achieved little more than to propose basic information measures that the big banks should have introduced years ago," said Alex Neill, director of policy and campaigns at the consumer group Which?. "The chance to deliver better banking for all consumers has been missed."
Price-Comparison Site
In October the CMA published a package of measures aimed at giving customers more information. The proposals included the creation of a price-comparison website for small businesses and a requirement for banks to prompt customers to review their services at certain "trigger points," such as a closing a local branch or a change in terms and conditions.
Those findings prompted angry responses from lawmakers before the regulator decided to extend the probe. At a hearing in November, lawmakers criticized Alasdair Smith, the chair of the banking investigation, for failing to "challenge these banks to come up with a justification for their costs."
"The CMA has missed a golden opportunity and is on its way to short-changing millions of Brits by failing to go far enough in its measures to break the stranglehold of the 'Big Five,'" said Paul Pester, chief executive officer of TSB Banking Group Plc. "On the whole this report raises more questions than answers."
It is the second market investigation carried out by the CMA since it was spun out of the Office of Fair Trading in April 2014. The U.K.'s energy companies also escaped the more drastic recommendations the CMA could have made, which included proposals to break up the biggest six suppliers.
Heavy Users
Overdraft users would save on average 140 pounds, while "heavy" overdraft users would save 260 pounds if they switched accounts to avoid the fees, the CMA said.
The remedy "doesn't represent a radical departure" from plans the banks already had in place, said Ian Gordon, head of banks research at Investec Plc. An index of shares of nine banks that includes Lloyds Banking Group Plc, Barclays Plc and Royal Bank of Scotland Group Plc, climbed 1.7 percent by 9:57 a.m. in London.
"Banks have already taken material steps to improve this kind of transparency, like giving text alerts when customers go overdrawn," he said. "At the margin this provides extra downward pressure on other income but it's a journey the banks were already on."
The review comes five months after the Financial Conduct Authority disrupted the payday lending industry by capping the interest and fees on new loans at 0.8 percent a day of the amount borrowed. Fixed default fees can't be higher than 15 pounds and the total cost of the loan must not exceed the total amount borrowed, according to the FCA.
Those measures are already throttling the industry. Last month, payday lender Wonga said pretax losses climbed to 80 million pounds, from 38 million pounds a year earlier as the new regulations took hold.
"The ball is now firmly in the Financial Conduct Authority's court," Neill said. "They must also go further than better information to tackle the unfair, punitive charges faced by unauthorized overdraft users, some of whom are hit with fees far in excess of payday loans."
Before it's here, it's on the Bloomberg Terminal.
LEARN MORE