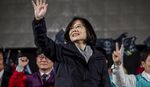 As if handling a deteriorating relationship with China won't be challenging enough, Taiwan's independence-leaning president-elect Tsai Ing-wen takes charge on Friday of an economy that's been contracting year-on-year for three straight quarters.
From trade to innovation and talent retention, Tsai will need to avoid the legislative policy paralysis that kept previous governments from turning things around. Here's a look at the biggest challenges ahead for Tsai and the island economy:
Trade: Exports are the biggest contributor to gross domestic product, with 15-straight months of contraction dragging on the economy. A former trade negotiator, Tsai has pledged to try and get Taiwan into regional trade agreements like the Trans-Pacific Partnership and the Regional Comprehensive Economic Partnership pacts.

Consumption: Taiwan's domestic consumption market of 23.5 million people form the next biggest pillar of the economy. Tsai will need to make sure people continue to shop, eat out, trade stocks, and buy property to offset the impact of waning global demand for the economy's products. Boosting tourism would also help.

Talent: In late 2015, Charles Kao, president of Nanya Technology, jumped ship to Chinese tech investor Tsinghua Unigroup -- the latest high-level example of brain drain that has hurt the technology, finance and other sectors in recent years. To stem the tide, Tsai will need to oversee a pick up in salaries and improved access to the mega market across the strait.

Innovation: The island's contract manufacturers are being edged out by Chinese competitors, and are struggling to move up the value chain to compete in new areas. Tsai made fostering innovation in sectors such as energy, machinery and bio-sciences a central part of her platform. Now it's time to flesh out those plans and put them into action. 


Power: Tsai's progressive voter base is strongly against nuclear power, but with the first of Taiwan's three nuclear power plants entering retirement in 2018, business voices such as the American Chamber of Commerce are wondering how Taiwan will fill potential energy shortfalls.

Throwing it all together, Tsai's challenge is this: to revive the Tiger economy without antagonizing the Dragon next door. 


Before it's here, it's on the Bloomberg Terminal.
LEARN MORE