Qatar Plans to Tap Eurobond Market After 4-Year Break
by and
Picks 10 banks for sale including HSBC, JPMorgan, Barclays

Meetings to begin May 19 as country seeks to bridge deficit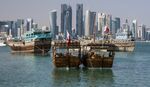 Qatar will meet investors this week before a possible sale of international bonds as the world's biggest exporter of liquefied natural gas seeks to finance a budget deficit caused by falling energy prices.
The Persian Gulf nation picked 10 banks to arrange the meetings starting May 19 in Asia, Europe and the U.S., according to a person familiar with the plan. A sale of dollar-denominated securities may follow subject to market conditions, said the person, asking not to be identified because the information is private.
"There is a plethora of issues coming to the market," said Angelo Rossetto, a trader at GMSA Investments Ltd. in London, adding he will consider bidding for Qatar's new issue. "Makes sense to issue now with the recent pop in commodity prices."
Issuers from the six-nation Gulf Cooperation Council, which includes Qatar and the United Arab Emirates, are rushing to the bond market before the Muslim holy month of Ramadan that begins in June and a possible increase in U.S. interest rates. They need cash after a more than halving of oil prices led to bigger budget deficits, including a fiscal shortfall that Qatar's finance minister projected in December will reach 46.5 billion riyals ($12 billion) this year.
The offering, the Gulf nation's first since 2012, will include Regulation S and 144A securities that are marketable in the U.S., according to the person. The nation will seek to raise about $5 billion in multiple tranches, three bankers familiar with the transaction said earlier this month. Yields on Qatari bonds maturing in January 2022 rose two basis points today, paring a decline of 33 basis points this year to 2.46 percent.
Sales Pipeline
Abu Dhabi generated a similar amount from issuing five- and 10-year debt last month. Governments of Bahrain and Oman are also raising money from privately placed bonds, people familiar with the plans said this week.
The banks chosen by Qatar were HSBC Holdings Plc, JPMorgan Chase & Co., Mitsubishi UFJ, QNB Capital, Al Khalij Commercial Bank PQSC, Deutsche Bank AG, Barclays Plc, Bank of America Merrill Lynch, Mizuho Securities and a unit of SMBC Nicco.
Moody's Investors Services this week confirmed Qatar's third-highest investment-grade rating, saying the nation's economy will grow at an average pace of 3.6 percent from 2016 to 2020.
(
Corrects headline and fifth paragraph in story published on May 17 to show Qatar's last sale was in 2012.
)
Before it's here, it's on the Bloomberg Terminal.
LEARN MORE