Rain Coming to Alberta May Slow Wildfires That Doubled in Size
By and
Fire five times size of New York city curbs oil-sands restarts

Precipitation expected Thursday through Sunday in region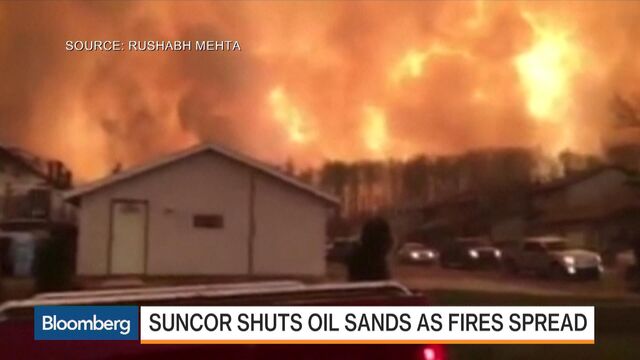 Wildfires at the heart of the oil sands have almost doubled over the past week, devastating an area five times bigger than New York City and posing a renewed threat to Canada's biggest crude-producing operations. Rain may help contain the blaze.
QuickTake Oil Sands and the Environment
Showers forecast for the region in the next few days offer the hope of reining in a fire that swept north of Fort McMurray again to the main operations in the oil sands, thwarting plans to bring back much of the more than 1 million barrels a day of lost production. About 15 millimeters of rain (0.6 inches) is expected starting Thursday, Travis Fairweather, an Alberta Forestry spokesman, said by phone Wednesday. The blaze has grown to about 4,230 square kilometers (1,633 square miles), he said.
"That's pretty significant growth," Fairweather said. "We're really hoping to see rain tomorrow and hopefully Friday. We're keeping our fingers crossed for that."
Energy producers including Suncor Energy Inc., the nation's largest, have been forced to abandon efforts to restart plants as they evacuated about 8,000 workers from lodging facilities, just days after beginning the process of resuming output when the initial risk had passed. Horizon North Logistics Inc.'s Blacksand lodge, a work camp about 40 kilometers (24 miles) northwest of Fort McMurray that serves Suncor and Syncrude Canada Ltd. was overtaken by fire on Tuesday.
The renewed threat to production in the oil sands, which contain the world's third-largest reserves, helped push crude to a seven-month high on Tuesday. West Texas Intermediate rose as high as $48.95 a barrel Wednesday in New York.
Production Cuts
The delay to restarts is another setback for Canada's economy and energy industry in what is already estimated to be the country's costliest disaster. The fires forced the evacuation of more than 80,000 people from their homes earlier this month as entire neighborhoods in Fort McMurray were razed. Oil-sands output has been reduced by about 1.2 million barrels a day, according to the Conference Board of Canada. The research group forecasts that 14 days of production cuts represents a hit of about C$985 million ($763 million) to the Alberta economy.
Suncor is focused on moving people out of the oil-sands region, Sneh Seetal, a spokeswoman, said by phone. The MacKay River, Firebag and base plant mine sites together have a capacity to produce about 740,000 barrels a day. Syncrude, a joint venture controlled by Suncor, also evacuated workers because of the fire threat, Will Gibson, a spokesman, said in an e-mail. Syncrude's Mildred Lake and Aurora mines together have a capacity to produce about 407,000 barrels a day.
Rain Forecast
Rain is expected to continue through Sunday, according to government of Canada weather forecasts. There were 1,754 firefighters, 208 helicopters, 412 pieces of heavy equipment and 29 air tankers battling fires across Alberta, including the blaze around Fort McMurray, the provincial government said Tuesday.
The reduced production will cut Alberta's gross domestic product by about 0.33 percent this year and erode Canada's GDP by 0.06 percent, the Conference Board said in a statement Tuesday. The rebuilding effort to replace the 2,400 homes and buildings in Fort McMurray destroyed by the fires will add about C$1.3 billion to the economy next year.
"The shutdown of activity in Fort McMurray and in the oil sands will have a major impact on the local economy in the short term," the Ottawa-based group said.
Oil-sands production came offline as companies took precautionary measures including evacuating workers and shutting down power lines and pipelines. Companies are taking similar measures again. Inter Pipeline Ltd. said Tuesday it had partially shut down its Polaris and Corridor systems due to fires.