Offshore Yuan Gains for Second Day as Currency Outflows Moderate
Bloomberg News
Chinese banks sell less foreign exchange for clients in April

Replica of CFETS RMB index rises to highest level this month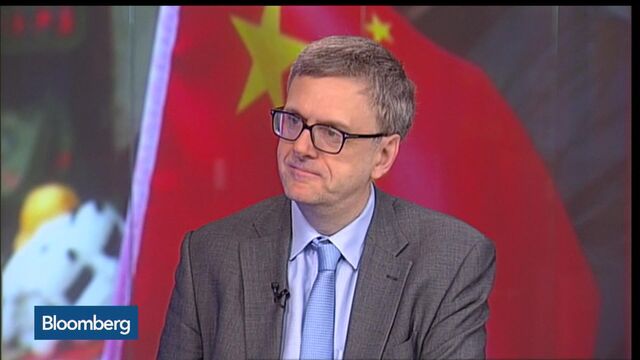 The yuan traded in Hong Kong's offshore market climbed for a second day after data signaled outflows moderated further last month.
Chinese banks sold less foreign exchange for clients in April compared with March, according to data released by the State Administration of Foreign Exchange on Monday. Outflows slowed further last month, while companies and individuals have become less willing to hold foreign exchange, the currency regulator said in a statement.
The offshore yuan rose 0.11 percent to 6.5418 a dollar as of 4:32 p.m. local time, according to data compiled by Bloomberg. The currency traded in Shanghai fell 0.05 percent to 6.5232 after the People's Bank of China raised the daily reference rate, which restricts onshore moves to a maximum 2 percent on either side, by 0.22 percent to 6.5200.
"Outflows moderated further as the economy stabilized and the dollar weakened last month," said Liu Jian, a Shanghai-based researcher at Bank of Communications Co. "Companies have now become more willing to sell foreign exchange, alleviating depreciation pressure."
Outflows Ease
Outflow pressure has been easing since March, when foreign-exchange reserves increased for the first time in five months. Authorities have stemmed a record tide of departing money with stricter currency rules and repeated statements they don't want a big devaluation in the yuan.
China, whose surprise August yuan devaluation sent shock waves worldwide, is dividing the biggest names in finance more than any other market. BlackRock Inc.'s Laurence D. Fink, who oversees the world's largest money manager with $4.7 trillion of client assets, said "we all have to be worried" about China's mounting debt amid slowing growth, even as he remains bullish on the nation in the long term.
Chinese banks sold a net 150.1 billion yuan ($23 billion) of foreign exchange for clients last month, less than 218.7 billion yuan in March, SAFE data showed. Yuan positions at the PBOC's balance sheet was 23.78 trillion yuan at the end of April, compared with 23.84 trillion yuan at end-March, central bank data showed.
Money Rates
"SAFE data suggest FX outflow moderated further in April, though the pace remained meaningful," Hong Kong-based Goldman Sachs Group Inc. analysts led by MK Tang wrote in a note e-mailed Tuesday. "The slowdown in FX outflow was encouraging. However, outflow pressure could pick up again if the recent strength of dollar continues."
A Bloomberg replica of the CFETS RMB Index, which the central bank uses to track the yuan against 13 currencies, rose 0.1 percent to 97.15, the highest level this month.
The central bank granted 290 billion yuan of loans to 21 financial institutions on Monday via its Medium-term Lending Facility, and injected a net 5 billion yuan in open-market operations in the first two days this week. The overnight repo rate, a gauge of interbank funding availability, rose one basis point to 2 percent, the highest level in more than two weeks.
— With assistance by Helen Sun
Before it's here, it's on the Bloomberg Terminal.
LEARN MORE