Novartis Splits Up Drug Unit as Top Executive Will Depart
by
AstraZeneca's Hudson hired to oversee pharma business

Hudson and Strigini to report directly to CEO Jimenez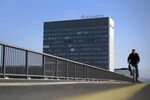 Novartis AG will reorganize its operations to create separate units for cancer and for other drugs, underscoring the Swiss company's focus on oncology following the purchase of assets last year from GlaxoSmithKline Plc.
Following the changes, the Basel-based drugmaker's head of pharmaceuticals, David Epstein, will leave the company. The drugs division will be run by AstraZeneca Plc's Paul Hudson, and the oncology unit will be led by Bruno Strigini, with both executives joining the executive committee from July 1 and reporting to Chief Executive Officer Joe Jimenez, Novartis said in a statement Tuesday.
Epstein, who has been rumored to be a potential candidate to succeed Glaxo CEO Andrew Witty when he leaves next year, will look for new opportunities from the U.S., the Swiss drugmaker said. During Epstein's six-year tenure overseeing Novartis's pharmaceutical business, the company successfully brought to market blockbuster drugs including Glivec and Gilenya, as well as newer psoriasis treatment Cosentyx. More recently, the company and Epstein have both come under fire for weaker-than-estimated sales of heart failure medicine Entresto.
Heart Drug Struggles
Following its introduction in July, Entresto struggled to gain acceptance in the U.S., the world's largest market for pharmaceuticals, as physicians hesitated to prescribe a drug that insurance companies don't broadly cover. The medicine had attracted only about 11,000 patients in the U.S. after being available there for six months, while it won over more than 1,000 patients in its first week in Germany, Epstein said on a call in January.
Analysts cut their 2020 sales estimates for Entresto by 35 percent, or $2.1 billion, earlier this year amid lackluster demand. Novartis projects that the drug will eventually have peak sales of $5 billion a year.
Hudson, who currently runs North American operations for London-based AstraZeneca, previously led the U.K. drugmaker's Japanese business. He will oversee Novartis's treatments for neuroscience, ophthalmology, immunology and established medicines.
Strigini, who already oversees oncology for Novartis, will also be responsible for cell and gene therapies. He joined Novartis in 2014 from Merck & Co., and oversaw the integration of the assets acquired from Glaxo in a complex three-part deal. Both executives will be based in Basel.
Along with its brand-name pharmaceutical operations, Novartis also has Sandoz, a generics and biosimilar division, and eye-care unit Alcon.
Before it's here, it's on the Bloomberg Terminal.
LEARN MORE