LendingClub Tumbles After Investors Suspend Debt Purchases
by and
Firm got grand jury subpoena from Justice Department last week

Company is considering new ways to draw funding for its loans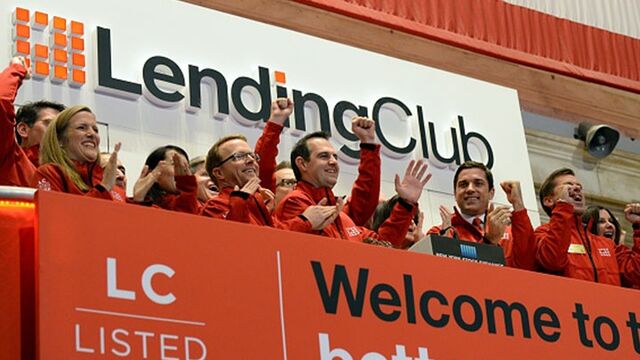 LendingClub Corp. shares resumed their slide in New York trading Tuesday amid a scandal that cost the chief executive officer his job, prompted investors to suspend debt purchases and spurred a U.S. Justice Department probe.
The stock tumbled 11 percent to $3.52 at 1:23 p.m. following a regulatory filing from the company late Monday that said strategies to restore investor confidence and obtain new capital for loans might include equity or debt sales, fee changes or other moves that could be "costly or dilutive" to shareholders. The shares, which traded as high as $11.25 in January, plunged 51 percent last week after the surprise departure of Chairman and CEO Renaud Laplanche and the disclosure of faulty internal controls.

Investors who "contributed a significant amount of funding" for loans have paused purchases to examine their performance "or are otherwise reluctant to invest," San Francisco-based LendingClub said, adding that the retreat is hurting its ability to field new loan applications.
The Justice Department sent a grand jury subpoena seeking information, and the Securities and Exchange Commission is examining what happened, LendingClub wrote, saying that it plans to cooperate. "While the investigation is still in its early stages, the company is pleased with the open and positive interactions that have occurred to date," LendingClub said in a separate statement Tuesday.
Inside LendingClub's Shakeup: CEO Exit Said to Hang on Trust
Higher interest rates might be needed to bring back investors, "which may serve to erode the company's margins in the near term but may be necessary to get the company back on track," BTIG analysts including Mark Palmer and Giuliano Bologna wrote in a note to clients. Management has to re-instill confidence in LendingClub's platform "while the company contends with a legal overhang," they wrote.
LendingClub stunned shareholders May 9 by announcing that Laplanche, who founded the company, had resigned after internal reviews. The board cited two incidents: The firm's staff altered application dates on $3 million of loans before their sale, and Laplanche, 45, failed to disclose his interests in a fund that LendingClub was considering investing in.
Founded in 2006, LendingClub originally used its online platform to match borrowers with individuals who wanted to fund them. In recent years, it has leaned more on money managers, hedge funds, banks and other Wall Street firms to sell the debts. Those buyers' deep pockets are crucial to maintaining the tech-driven industry's meteoric growth.
Related Story: Prosper Said to Meet Fortress, Others About Capital Injections
In interviews last week, people in the business of buying debts from LendingClub's platform said concerns over its stumbles and disclosures were prompting them to consider scaling back or delaying purchases. BancAlliance, a network of community banks that partners with the venture, said Thursday it may suspend purchases at month's end, when it typically decides how much debt to buy. 
"It is too early to determine whether this trend will continue or what impact it may have on our business, results of operations, financial condition or our stockholders," LendingClub said Monday. "We are actively exploring ways to restore investor confidence in our platform and obtain additional investment capital for the platform loans."
LendingClub hired an adviser to look back through its loans. A review of debt sold in the two years through March 31 found that 99.99 percent showed no unexpected changes, aside from the $3 million of loans at issue, the company said.
For a primer on the online lending industry, click here.
The scandal hurt LendingClub's ability to hold onto some of its key personnel. To retain managers and attract new ones, the company said it will need to boost pay packages.
Details of some of those arrangements were disclosed Monday: Acting CEO Scott Sanborn received a grant of restricted stock valued at $5 million and his salary was increased to $500,000. Chief Financial Officer Carrie Dolan received $3.5 million of restricted stock units and her salary was increased to $400,000. Both executives also received $500,000 cash awards that will pay out in a year.
LendingClub's troubles are affecting competitors. Prosper Marketplace Inc., its largest rival, has met with investors including Fortress Investment Group about potential capital injections, a person with knowledge of the matter said. Even before LendingClub's announcement, Prosper planned to slash its workforce 28 percent to cut costs, a person briefed on the matter said in early May.
Before it's here, it's on the Bloomberg Terminal.
LEARN MORE