Kerry Says 'Competing Interests' Hold Up Syria Peace Accord
by and
Lavrov says Assad 'lesser evil' than potential chaos in Syria

UN envoy de Mistura declines to name new date for Syria talks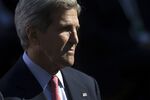 U.S. Secretary of State John Kerry said "competing interests" are holding up a peace settlement in Syria, as Russia argued that President Bashar al-Assad is a "lesser evil" than the chaos that could be sparked by his ouster.
Kerry reiterated his goal of striking a deal to end the five years of civil war in the Middle Eastern country by August after negotiations with Russian Foreign Minister Sergei Lavrov and counterparts from other powers in Vienna on Tuesday. But the United Nations envoy for Syria, Staffan de Mistura, declined to name a date for the next round of peace talks.
The gains of recent months are "increasingly threatened by irresponsible and dangerous actions by those who would rather have this effort fail, who want to create problems rather than solutions, because they seek a different outcome," Kerry said. "There are, frankly, actors on both sides who make that choice. We can't give vetoes to bad actors."
The U.S., Russia and other states sponsoring the Syrian peace process are struggling to keep it alive. A partial truce has reduced the violence that's killed at least a quarter of a million of people since March 2011. Still, a deadlock remains over Assad's fate.
"Today's round was again difficult and partly controversial," German Foreign Minister Frank-Walter Steinmeier said in a statement. "It can't be any other way when 20 countries with very different experiences and very different perspectives sit at the same table."
'Lesser Evil'
The peace talks will become credible "when there is a credible cessation of hostilities and credible delivery of humanitarian aid," de Mistura said.
Russia, whose military intervention seven months ago staved off the defeat of Assad and allowed him to go on the offensive against his opponents and Islamic militants, isn't trying to keep him in power, Lavrov said. But the Syrian leader's forced removal could have catastrophic consequences, he warned.
"The Assad regime is the lesser evil when compared with greater chaos," Lavrov said. "We don't support Assad; we support the fight against terrorism."
QuickTake: Syria's Divisions Meet Outside Conflicts in Civil War
The U.S. maintains that Russia can do more to curb Assad's attacks on civilians, citing Syria's acceptance of the partial truce after Russia announced it was withdrawing some of its forces from the country.
"That clearly had an impact on the Assad regime," State Department spokesman John Kirby told reporters in Washington on Tuesday. "So we know that that leverage exists."
The war and those fleeing it have generated twin crises for Europe. Syrian refugees have surged through Turkey to seek refuge in European nations, confronting the continent with its biggest migration challenge since World War II. Islamic State militants have also used control of territory in Syria and Iraq to carry out deadly attacks such as those in Paris and Brussels.
Assad Regime
Together those crises are bolstering Russia's arguments that removing Assad would unleash greater chaos and repeat mistakes made in Iraq and Libya, where the overthrow of long-standing regimes gave free rein to jihadist groups, according to Afzal Ashraf, a former senior officer in the U.K. Royal Air Force who's now a consultant fellow at the London-based Royal United Services Institute.
"The collapse of the Assad regime without something in place would result in that situation," Ashraf said by phone. "People in the U.S. do understand that."
President Barack Obama's administration has been trying unsuccessfully to pressure the opposition to accept a deal that would see Assad share some power with the opposition during a transitional phase ahead of elections, according to Ilan Goldenberg, a former State Department official who heads the Middle East Security Program at the Center for a New American Security.
That's in part because countries backing the rebels, including Saudi Arabia and Turkey, continue to insist on Assad's departure. Meanwhile, on Tuesday, the Saudi-backed main opposition group, the High Negotiations Committee, urged Russia in a statement to stop Assad's forces from attacking areas where there are civilians or rebel groups that signed up to the cease-fire.
Faced with the deadlock, HNC head Riad Hijab has said he's already looking to who will next sit in the White House in January. Obama's administration has refused to supply shoulder-fired anti-aircraft weapons known as MANPADS for fear they would get into the hands of Islamic State or other jihadists and has rejected calls from some former U.S. officials to establish no-fly zones. 
By that time, it may be too late, said Faysal Itani, senior fellow at the Atlantic Council. Assad's forces could encircle the city of Aleppo and move into Idlib province, cutting off the remaining key rebel supply lines in the north, he said.
"After that, the insurgency would no longer pose a serious conventional threat to the regime's survival," Itani said.
Before it's here, it's on the Bloomberg Terminal.
LEARN MORE