Japan Dodges Recession Thanks to Consumers, Public Spending
by
Private consumption recovers while business spending slumps

Expansion of GDP exceeds forecasts by all surveyed economists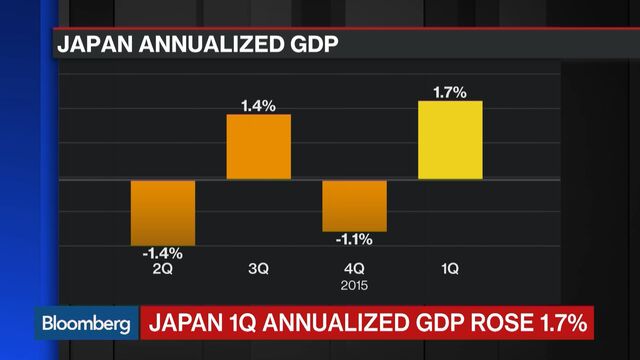 Japan's economy dodged a recession last quarter as gains in government and consumer spending compensated for a slide in business investment.
Gross domestic product expanded by an annualized 1.7 percent in the three months ended March 31, exceeding all forecasts in a Bloomberg survey of economists, a Cabinet Office report showed on Wednesday. The October-to-December quarter was revised to a 1.7 percent contraction, worse than the previous estimate of a 1.1 percent drop.
The decline in capital spending suggested that companies remain reluctant to deploy their stockpiles of cash, and underscored that Japan has a long way to go before pulling free of the cycle of expansion and contraction that's plagued the economy for decades. The leap year provided an extra day of production and spending to bolster the data, and the outlook remains challenging given the resurgent yen and the possibility of a sales-tax hike in 2017.
"The GDP figures were much stronger than expected but when you take out the leap-year effect, the true condition in Japan's economy is continuing stagnation," said Yuichi Kodama, chief economist at Meiji Yasuda Life Insurance Co. in Tokyo. "A delay in the sales-tax hike and an economic stimulus package are becoming a done deal and today's report isn't enough to change this."

Despite more than three years of Abenomics and record monetary stimulus from the central bank, business spending fell 1.4 percent in the first quarter from the previous three months. Private consumption rose 0.5 percent from the previous period, when it dropped a revised 0.8 percent.
For the fiscal year through March, nominal GDP rose 2.2 percent, the largest gain in data back at least through 1997. The government's ultimate goal is 3 percent.
Unadjusted for price changes, GDP rose 0.5 percent from the previous quarter, the same as the average in the previous three years.
Nominal GDP figures showed consumption, residential investment and capital spending all fell. Government spending rose.
Inflation pressures are easing, with the GDP deflator rising 0.9 percent from a year before, the least in two years.
Good news on the wage front: compensation rose 0.6 percent from the previous quarter, after a 0.5 percent advance.
Net exports contributed 0.2 percentage point to quarterly growth.
"By having one extra day, people will eat more and spend more," said Kohei Iwahara, an economist at Natixis SA in Tokyo. "This seemingly trivial point can make a difference when consumer confidence is falling and wage growth is subdued."
Tax-Rise Debate
Consumer spending, which accounts for about 60 percent of GDP, is likely to weigh heavily on the mind of Prime Minister Shinzo Abe as he contemplates whether to delay increasing the sales tax to 10 percent from the current 8 percent. A previous hike on the levy in 2014 pushed the economy into recession.
The Nikkei newspaper reported that Abe has decided to postpone the move and will probably make his decision public after hosting global leaders at a Group of Seven nations summit later this month. Senior officials in the ruling Liberal Democratic Party said the prime minister hasn't made a decision on the matter.
"The government would need to avoid raising the consumption tax and to assemble a supplemental fiscal package," said Iwahara.
Hiroaki Muto, chief economist at Tokai Tokyo Research Center in Tokyo, said the economy will probably struggle to gather growth momentum because gains in the yen and declines in stocks threaten to hurt exporters, dimming the outlook for corporate spending.
The yen has strengthened 10 percent against the dollar this year while the Topix stock index has declined almost 14 percent. Toyota Motor Corp. said annual net income will probably decline for the first time in five years, as currency swings that had spurred record profits now pose stiff headwinds.
Watch next: Japan's Economy Grows Enough to Avert a Recession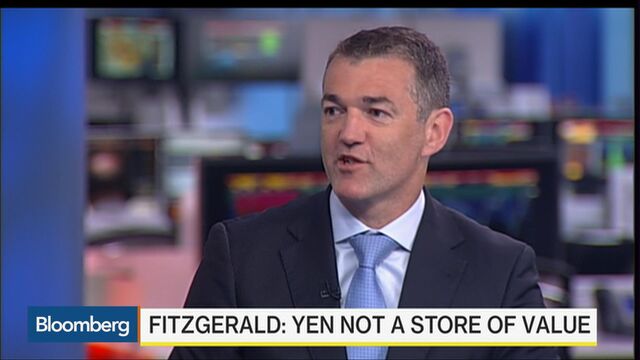 Before it's here, it's on the Bloomberg Terminal.
LEARN MORE