It Looks Like the Weakening Dollar Is Already Helping U.S. Multinationals
Bigger is starting to look better.
by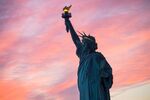 Being big isn't always beautiful.
America's multinational giants knew this pain all too well amid the greenback's rapid ascent beginning in the middle of 2014, which reduced the U.S.-dollar value of revenues generated abroad.
However, with a dovish Federal Reserve and the subsequent unwind of long-greenback trades, the U.S. dollar spot index is currently down 2 percent year-over-year:

Bank of America Merrill Lynch equity strategists led by Savita Subramanian observed that this reversal in foreign exchange already appears to have borne fruit during earnings season.
"Both top and bottom-line beats this quarter have been led by bigger-cap, higher-quality, more foreign-exposed stocks: three of our preferred themes to own," she wrote. "Multinationals have benefited from a weaker dollar and improvement in global activity data this year."
In February, Bank of America's credit strategists outlined how the U.S. dollar would soon be providing a tailwind to earnings, removing one of the most notable and persistent drags on financial performance.
Fundstrat Global Advisors LLC Managing Partner Thomas Lee, meanwhile, has cited the U.S. dollar's downdraft as one of the major reasons why the S&P 500 is well-positioned to set new all-time highs.
The brightening outlook for multinational firms is reflected by analysts' earnings revisions on these names. The extent to which the analyst community sees bottom-line performance for more foreign-oriented companies improving relative to their domestic counterparts speaks to the role of the weaker greenback in bolstering the outlook for these companies.

"In fact, the spread between the revision ratios for the most foreign-exposed stocks and the most domestically-oriented stocks in the S&P 500 is at its widest since mid-2011, when the trade-weighted dollar troughed," concludes Subramanian.
Before it's here, it's on the Bloomberg Terminal.
LEARN MORE