Hedge Funds Abandon Ex-Darling Valeant and Other 13F Highlights
by , , and
Soros cuts holdings of U.S.-listed stocks by more than a third

Eton Park buys stake in gold ETF as metal attracts more bulls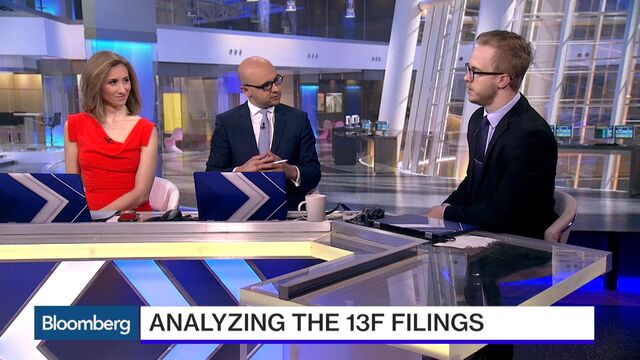 Forty-five days after the end of each quarter, investors scour the quarterly filings of hedge fund managers to glean trading ideas and suss out trends.
Here are some highlights from the latest round of 13F filings, which list the U.S. holdings of money managers as of March 31:
Valeant vanishes from a lot of portfolios
Valeant Pharmaceuticals International Inc. is a hedge fund darling no more. What used to be one of the industry's most popular holdings has fallen out of favor with just about every major hedge fund holder save Pershing Square Capital Management's William Ackman.

Brahman Capital, which had invested in Valeant for at least 2010, exited the 8.12 million shares it held at the end of 2015 during the first quarter. The New York firm was joined by a who's who of hedge fund giants: Andreas Halvorsen's Viking Global Investors, Stephen Mandel's Lone Pine Capital, Philippe Laffont's Coatue Management and Barry Rosenstein's Jana Partners all sold off the former high-flier, which has plunged about 90 percent from its peak last August.
Andrew Left, the short seller whose report helped trigger the drugmaker's tailspin, said he is a buyer now that many funds are exiting. Valeant rose 4.4 percent in Monday's trading, reversing earlier losses.
The merger-arb miss: Allergan
Merger arbitrage may be hot right now, but a broken deal between Pfizer Inc. and Allergan Plc suggests the strategy of betting on pending acquisitions has already sent some managers a message: it isn't just easy money.
Lone Pine and Seth Klarman's Baupost Group were among funds that bought into Allergan Plc during the first quarter, establishing stakes shortly before Pfizer Inc. decided in April to terminate a $160 billion deal to combine with the Dublin-domiciled company as the U.S. cracks down on corporate inversions. Pentwater Capital Management, Arrowgrass Capital Partners and Eton Park Capital Management also took new stakes or increased their Allergan holdings. The stock has fallen 28 percent this year.
Scaling back U.S. stock holdings
Billionaire hedge fund managers have been sounding alarm bells on the state of global markets amid a slowdown in China. George Soros cut his firm's investments in U.S. stocks by more than a third in the first quarter, when he called a hard landing in the Asian nation "practically unavoidable" and said such a slump could worsen global deflationary pressures, drag down stocks and boost U.S. government bonds.

The value of Soros Fund Management's publicly disclosed holdings dropped by 37 percent to $3.5 billion as of the end of the first quarter. At Glenview Capital Management, the hedge fund run by Larry Robbins, investments in U.S.-listed stocks declined by 22 percent. At Louis Bacon's Moore Capital Management, the value of the holdings fell by about 29 percent.
Soros's family office also more than doubled its bet against the broader market during the quarter. The firm held put option contracts on 2.1 million shares of the SPDR 500 ETF Trust with a face value of $431 million as of March 31.
Yellow metal regaining its luster
Gold is gaining popularity among prominent investors. Soros established a $264 million position in Barrick Gold Corp., acquiring a 1.7 percent stake in the world's biggest bullion producer that was the fund's biggest equity position. Soros also disclosed owning bullish options on 1.05 million shares in the SPDR Gold Trust, an exchange-traded fund tracking the price of bullion.
Other major investors also sought safety in the yellow metal. Eton Park purchased 3.6 million shares in the same gold ETF, a $422 million position. Bessemer Group bought 546,000 shares valued at $64.3 million.
Gold futures have climbed 20 percent this year, including a 17 percent surge in the first three months that marked the best quarter since 1986. Investors increased their holdings in SPDR Gold Trust by 28 percent in the first quarter, the most since 2009.
Billionaire hedge-fund manager John Paulson went the other way and cut his holdings in the gold ETF. Paulson & Co. owned 4.8 million shares of ETF at the end of the first quarter, compared with 5.8 million as of Dec. 31. The billionaire uses the ETF, which has gained 3.5 percent this quarter, to back shares of his funds that are denominated in gold.
Buffett is buying what Icahn's selling
Warren Buffett's Berkshire Hathaway Inc. disclosed a stake in Apple Inc., betting that the technology company will rebound after a slump driven by a slowdown in iPhone sales. Berkshire held 9.81 million Apple shares, valued at $1.07 billion at the end of the first quarter.
Apple last month reported its first quarterly drop in revenue in 13 years, stoking concerns that the company's best days have passed.
Billionaire Carl Icahn said last month that he exited a position in the company because of concerns that the smartphone market is saturated and China will no longer fuel sales growth. David Tepper's Appaloosa Management disclosed Friday that it sold out of its Apple stake in the first quarter. Chase Coleman's Tiger Global Management reduced its Apple holding by almost half, according to a filing Monday, as it cut swaths of its largest technology investments.
Before it's here, it's on the Bloomberg Terminal.
LEARN MORE