Bringing 911 Service to the Developing World With Smartphones and Motorcycles
A Google-backed startup is building a volunteer network in the Dominican Republic and Tanzania.
By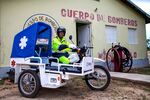 While driving along the winding dirt roads of El Copey in the Dominican Republic, you've crashed headlong into a cow. The bovine seems OK, save an aggravated moo, but you're hurt, and the closest city is dozens of miles away. Dialing 911 is an option only in the capital of Santo Domingo, not out in the countryside.
Instead, call the regional firehouse. There, a dispatcher uses Beacon, software created by nonprofit Trek Medics International, to send a group text to a team of volunteer emergency medical technicians in the area. One of the volunteers texts back a confirmation number and heads to the scene on a motorcycle equipped with a sidecar gurney, taking you to a physician.
Trek Medics seeks to bring a 911 alternative to countries where such services are rare. While the transportation research group at the University of Alabama at Birmingham found conventional ambulances cost an average of $1.46 a mile, one 2008 study found the motorbikes can operate for about 18.6¢ a mile. So Trek has been able to build a volunteer network of about 200 people in the Dominican Republic and Tanzania with a shoestring budget supported by Google, Cardinal Health, the U.S. Agency for International Development, and private donations.
Founded in 2009 by former paramedic Jason Friesen, the New York nonprofit employs only a handful of people to manage operations. Responders volunteer in exchange for a first-aid training certificate, a pressed uniform, and, for 1 in 5, free mobile phone service.
"We knew we had to find a way to incentivize people without money," Friesen says. "We target 18- to 24-year-olds, generally speaking. And what are they most concerned about in this age group in these communities? Phones. Internet connections. Social networks. It's their gateway to a larger world."
The phone subsidies are allocated by a local fire chief or other community leader, who has some discretion to choose which 20 percent of the volunteers get their bills paid, based on how many calls they respond to and other factors. This helps address a basic logistical problem, Friesen says, making sure responders confirm they're heading to a scene in order to avoid duplicating efforts. In early tests, prohibitively high messaging costs often dissuaded volunteers from responding. In the Dominican Republic, one text reply to Beacon costs volunteers as much as 2.6¢, making regular use expensive in a country where the average worker's annual income is little more than $300.
"It was a lot before they started paying it," says volunteer Ray Apolinar Torres Muñoz, who's responded to 98 emergencies in the past three months in the northwestern province of Monte Cristi. Fellow Monte Cristi-area volunteer Ednawel Vasquez, who's been on 300 calls in eight months, says that response rate would've been impossible without financial help. Both men are in their early 20s and say they hope to pursue careers in medicine.
By the end of the year, Trek will have volunteer networks in Mexico, Guinea, and Malawi, and will be able to serve about 1 million people, Friesen says. The next step will be to add better incentives, like smartphones with comped Internet access, for senior volunteers being groomed for supervisory roles. Eventually, he says, everyone who registers as a volunteer responder will get a Trek phone, but the nonprofit hasn't yet reached that point.
Trek is in talks with mobile carriers in Tanzania and the Dominican Republic to subsidize smartphone purchases, too. For now, that may be the toughest part, says Friesen. Carriers "are so reluctant to get involved, so we are just going to have to eat the costs upfront."
The bottom line: Trek Medics is training volunteer medical technicians and giving some free phone plans to build rural emergency services.
Before it's here, it's on the Bloomberg Terminal.
LEARN MORE