Ibovespa Leads Losses as Fed Bets Outweigh Goldfajn Nomination
by , , and
Real advances after swinging between gains and losses

Itau economist Goldfajn named Brazil's central bank chief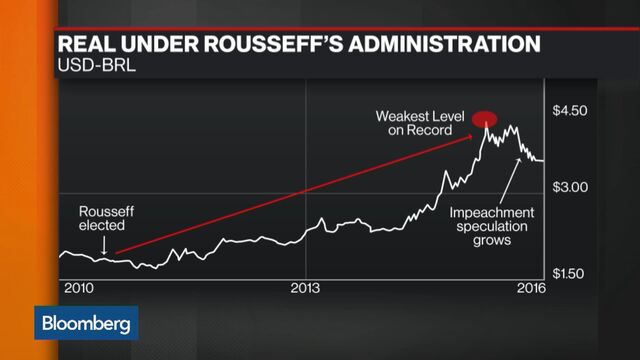 Brazil's stocks led losses among the world's biggest equity markets as speculation U.S. interest rates will rise outweighed optimism generated by the nomination of the Latin American nation's new central bank chief. The real rose.
The Ibovespa extended this month's slide after U.S. economic data signaled the Federal Reserve will raise borrowing costs as soon as June, dimming the outlook for emerging markets. Brazilian shares rose earlier Tuesday after Finance Minister Henrique Meirelles named Ilan Goldfajn, chief economist of Itau Unibanco Holding SA, to head the central bank. The real ended higher after swinging between gains and losses.
The U.S. economic reports are "weighing" on the Brazilian market, said Leonardo Monoli, a partner at Jive Asset Gestao de Recursos in Sao Paulo. "Still, Brazil is finally moving to a higher level of competence and as economic measures are effectively taken, the trend is for local assets to improve as long as there is no negative interference from the external market."
Traders have pushed up the value of Brazil's real and stocks this year on speculation that a new administration would pave the way for measures to revive the economy and curb a ballooning budget deficit. Regaining investors' trust is a key goal for Michel Temer, who assumed the presidency on May 12 after a Senate vote that brought Dilma Rousseff closer to impeachment and forced her to step down. Temer has said that his priority is to put the economy back on track as above-target inflation, double-digit unemployment and a near-record budget deficit erode consumer and business confidence.
"The economic team is great, but the challenges they face are huge," said Marcelo Giufrida, a partner at Garde Asset Management in Sao Paulo. "Everybody wants to know more details on how to shore up finances, which taxes may be created and which costs may be cut. Only then, we'll be able to understand what the trend for assets will be."
The Ibovespa slumped 1.9 percent to 50,839.45 on Tuesday, led by lenders Banco Bradesco SA and Itau. The real advanced 0.4 percent to 3.4888 per dollar.
Goldfajn was the latest member to join the core of Temer's economic team, which also includes Meirelles and Budget Minister Romero Juca. Meirelles has experience both on Wall Street and as a former president of the central bank, while Juca is an experienced legislator and political confidant to Temer.
The central bank on Tuesday refrained from its intervention program aimed at weakening the currency and protecting exports, after selling $41.8 billion in reverse swaps since March 21 to curb the real's appreciation.
"It will be important to see what this new team will announce in terms of policy," said Joao Paulo de Gracia Correa, head of foreign currency at brokerage SLW in Curitiba, Brazil. "It will also be important to recognize whether they will continue the reverse swaps."
Swap rates on the contract maturing in January 2017, a gauge of expectations for interest-rate moves, rose 0.05 percentage point to 13.65 percent.
Before it's here, it's on the Bloomberg Terminal.
LEARN MORE