Backpacker Tax May Mean Aussie Fruit Goes Unpicked
by
Aussie growers say levy will shrink itinerant labor force

Government delays tax in first climbdown of election campaign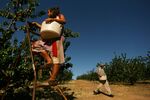 The mobs of kangaroos that eat his cherry trees down to stumps used to be Tom Eastlake's biggest problem. Now the farmer has a new No. 1 enemy -- a proposed tax that he says is already deterring overseas backpackers from coming to Australia and may mean this year's fruit is left unpicked.
Facing a backlash from rural voters ahead of a July 2 election, the government on Tuesday deferred scrapping a tax-free threshold for backpackers by six months. That's too late for Eastlake, who says itinerant workers that farmers rely on to pick their crops have already been put off.
"Finding staff is already a nightmare because Aussies don't want to do the work anymore," Eastlake said as he walked amid rows of trees on his 500-acre farm near the town of Wombat, 170 miles (270 kilometers) west of Sydney. "Foreign backpackers have become absolutely crucial for us and this tax will be catastrophic. It's just a revenue grab by the government."
With a budget deficit forecast to reach A$37.1 billion ($27.3 billion) next year as a mining boom withers, Prime Minister Malcolm Turnbull is turning to alternative revenue sources to boost his government's drained coffers. But by targeting backpackers, who currently only pay tax on earnings above A$18,200 ($13,400), he risks alienating rural voters and the tourism industry in an already tight election race.
Tax Delayed
"Australia has to build budget sustainability by increasing revenues and every little bit helps," said economist Miranda Stewart, director of the Australian National University's Tax and Transfer Policy Institute in Canberra. "The government may consider that taxing backpacker workers from the first dollar as non-residents shows it is serious. A risk is if the new policy deters backpackers from coming."
Turnbull's Liberal-National coalition today moved to quell opposition to the 32.5 percent levy being extended to backpackers' total earnings, announcing a review of the proposal and delaying its implementation until Jan. 1.
"The government has listened to rural and regional communities, the government has listened very much to those in the tourism sector," Assistant Treasurer Kelly O'Dwyer told reporters at a winery in the bellwether seat of Eden-Monaro, just 10 minutes drive from Eastlake's orchards. Polls show the government is in danger of losing the seat, which has been taken by the party that goes on to form government at every election since 1972.
"The government goes from collision to train wreck on this issue," opposition Labor Party leader Bill Shorten told reporters Tuesday. Reports from the farming and tourism sectors show that backpacker labor is already "drying up," he said.

A Newspoll published by the Australian on May 9 gave Labor a 51 percent to 49 percent lead over the coalition on a two-party preferred basis. The opposition would need to gain a uniform swing of about 4 percent to win enough seats to form government, with electorates such as Eden-Monaro -- won in 2013 by just a 0.6 percentage point margin -- to be hotly fought.
Backpackers pump A$3.5 billion a year into the economy, according to a report by the Australian branch of the YHA, the world's largest backpacker accommodation network.
The proposed tax has already contributed to a drop-off in the number of backpackers coming to Australia, according to Julian Ledger, chief executive of the YHA in Australia. The number of working holiday visas issued in the year to June 30, 2015 fell 9.1 percent -- the first decline in a decade, he said.
"Deferral of the tax is not satisfactory as it leaves uncertainty," Ledger said in a statement Tuesday. "Working holiday makers are flexible and willing to travel to where the work is, but have to end up with enough pay to make it worthwhile."
Threat to Farmers
The threat to the agricultural industry is clear, according to National Australia Bank Ltd. agribusiness economist Phin Ziebell. Farm production contributes about A$59 billion a year to the Australian economy, and the government is banking that agriculture will be a major beneficiary of new free-trade deals with China, Japan and South Korea.
"Clearly costs in labor-intensive sectors such as horticulture are a huge issue for farmers and taxes on backpackers aren't going to help them," Ziebell said. "A rate above 30 percent would significantly cut their pay packets, so it's a major concern that it will reduce the ability of labor. There's a lot of worry within the industry about it."
That concern is trickling through rural communities, according to Eastlake, 34. With the tax now slated to come into force in the middle of his fruit picking season, when his workforce swells from three to 130, the government risks creating further confusion with the deferral, he said.
"Every day that this isn't scrapped, we're losing potential workers," he said. "Coming in to an election you would think the government would realize this is really an issue that is a major concern in areas like this."
Before it's here, it's on the Bloomberg Terminal.
LEARN MORE